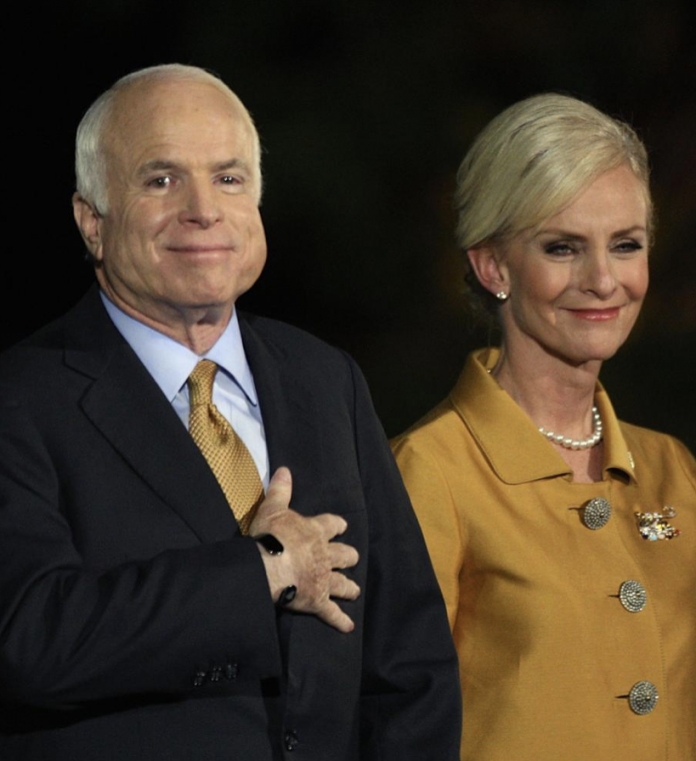 On Wednesday, Cindy McCain publicly spoke about President Donald Trump's past remarks about her late husband, John McCain, reports Fox News.
A Look at Cindy McCain's Interview
The recently widowed Mrs. McCain covered several points in her interview with BBC. First, she noted that the president's statements about her late husband were unkind to military veterans.
"I think that was a wrong thing to say, and I don't know if I'll ever get over it. But I'm the wife, that's my prerogative."
McCain's comments pertain to 2015 remarks which Trump made regarding John McCain. In essence, the then-future president expressed his preference for war heroes who managed to avoid enemy capture.
"He's a war hero because he was captured. I like people who weren't captured."
The foregoing statements prompted widespread censure from Americans on both sides of the aisle.
The Funeral of John McCain
In another segment of the BBC interview, Cindy McCain also addressed existing perceptions that John McCain's funeral served as a rebuff to President Trump.
"Even though it was a very public funeral, we are still a family. For all of us, for the sake of my own children, I didn't want any disruption."
McCain furthermore emphasized that she wished for her late husband to remain as the sole focus of the funeral.
"This was about John, not about anything else at all in our country. It was important to me that we kept it respectful and calm and not politicize it."
John McCain passed away in August 2018 after battling an insidious form of brain cancer.
Additional Details
Cindy McCain's interview comes after longtime tension between President Trump and the late John McCain. The latter frequently criticized the president and his policies. Following McCain's passing, President Trump tweeted out his condolences to the McCain family. Political leaders on both sides of the aisle also expressed their own sorrow and morning over the late senator's death.
Throughout John McCain's funeral, many Trump supporters criticized the McCains for not inviting the president. Individuals who gave eulogies at McCain's funeral also faced backlash from Trump supporters who opined that the funeral largely served as a slight to the president.