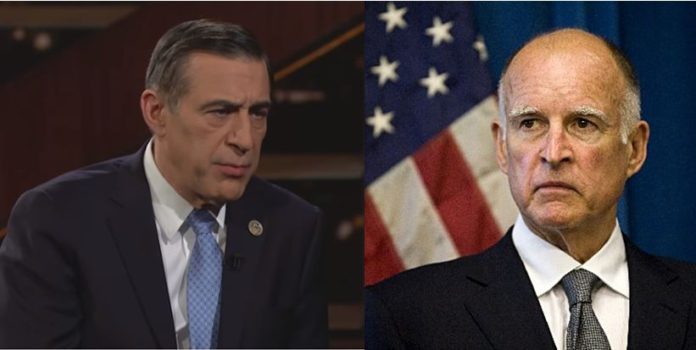 Republican Congressman Darrell Issa hit back at Governor Jerry Brown on the issue of tax policy. Issa represents the 49th District of California in the U.S. House of Representatives.
On Friday, Issa responded scathingly to Brown's letter encouraging him to vote no on any proposal to eliminate the state and local tax (SALT) deduction. California is among the states that will suffer if Congress decides to get rid of SALT deduction.
In his letter, Brown told Issa that it is a "horrible idea" to remove a person's ability to deduct SALT while preserving the same right for corporations. The governor also asked the congressman to "get the facts, debate the issue" then make the right decision.
In response, Issa said he recognized that SALT deduction is very important to many Californians. However, he emphasized that it became of such importance because of Brown's "misguided policies" that put "tremendous weight" on California taxpayers.
The congressman wrote, "As a consequence of your tenure, Californians now must endure the highest sales and personal income tax rates in the country."
Issa noted Brown's horrible ideas on tax policy
Data from Tax Foundation showed that California's combined state and local tax is the 6th highest in the nation.
Additionally, Issa said California's ranking in terms of its business tax code is "even more abysmal." The State is 49th in the country for cost of doing business and 50th for business friendliness based on CNBC's America's Top States for Business report for 2017.
Furthermore, Issa told Brown that California's numbers will "only get worse" because he signed into law a $5.2 billion annual gas tax increase. The congressman said the new law will take away money from millions of hard working Californians.
Issa said, "In terms of truly "horrible ideas" on tax policy, I have to say, this one takes the cake."  In addition, the congressman implored the governor to turn away from his policy of "ever-increasing taxes." Instead, he must "seek policies that actually lower the tax burden on all Californians."
Finally, Issa promised to continue to fight for a fairer and simpler tax code.