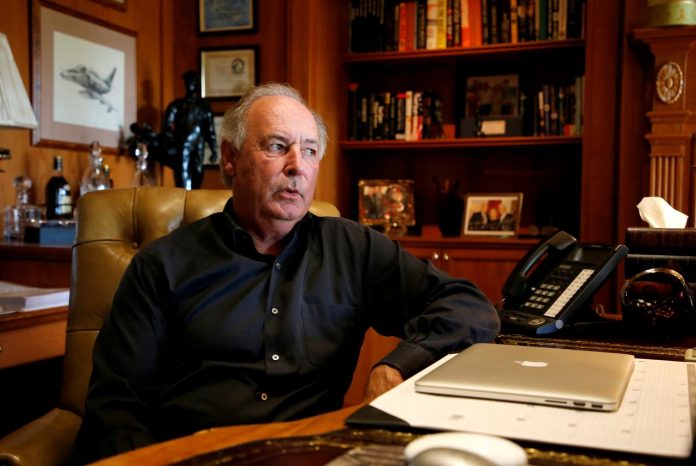 A controversial figure, Harry Sargeant III has seen his share of media headlines in recent years. The overarching question being: Who is Harry Sargeant?
According to his Wikipedia page (yes, he has his own wiki page), the 62-year-old oil magnate has a current net worth of over $3 billion. He's also a former marine and he achieved the rank of Major during his 11 years of service.
Following his service in the Marine Corps, the former fighter pilot worked briefly for Delta Airlines before taking the small shipping company his father had founded in the early 80s. With Sargeant at the helm, Sargeant Marine, Inc, transformed into a global operation.
Building his legacy
In 2005 Sargeant founded the Boca Raton-based company IOTC (International Oil Trading Company). IOTC has been awarded several government contracts and supplies aviation fuel to the U.S. military in Iraq through Jordan.
In 2008, Sargeant was accused of "war profiteering" and overcharging for fuel by 36 cents per gallon by then U.S. Representative Henry Waxman (D-CA). Sargeant felt these accusations were politically motivated, citing "numerous accolades from [the Defense Logistics Agency (DLA)] for its exemplary performance during the war."
Sargeant's attorney, Chris Kise, noted that there is added cost and danger in transporting fuel through Jordan and into Iraq. "They should have said the reasons we pay extra are because trucks get blown up along the way," Kise said. "The No. 1 priority in war time is making sure the company you hired can actually do the job."
Sargeant insisted he served the government "because of patriotism. It's part of being a patriot serving your country and not worrying about your wallet."
An investigation by the Department of Defense into the allegations of fraud concluded that "no fraud vulnerabilities were identified." IOTC eventually reached a settlement with DLA and was awarded a $40 million payment for fuel delivered while under contract.
Despite the allegations against IOTC, Sargeant seems to come out mostly unscathed and no less willing to take bold business risks. In late 2017, Sargeant flew to Venezuela to negotiate a partnership with Petroleos de Venezuela SA (PDVSA) for crude oil during a time when Venezuela was in Trump's crosshairs. The deal fell through following U.S. sanctions on Venezuela.
Giving back
Sargeant has been active in local politics. He has served as a Republican party official in Florida and has made significant donations ($1.5 million in contributions) to Florida politicians and the state Republican Party.
According to former Florida Gov. Christ, "He's a patriot, a great friend, he's a very smart man. He's done very well in business and he's worked in all of my statewide campaigns."
Sargeant has also donated money to his alma mater, Florida state to support the business department and athletic programs in addition to his old fraternity.
Troubled waters
No stranger to political scandal, Sargeant has most recently been accused of participating in a scheme to replace the CEO of Ukrainian gas company, Naftogaz, with someone who would presumably award lucrative contracts to Trump allies. He's also been accused of funding the travel of Lev Parnas in Ukraine.
In response, Sargeant has denied participating in the plot. He says that he only offered his insight into foreign markets over an informal dinner.
"The news stories unfairly and inaccurately portray Mr. Sargeant as having involvement in Ukraine business affairs," Sargeant's attorney, Chris Kise, said in a statement. "Mr. Sargeant conducts no business of any kind in the Ukraine and has not visited Ukraine, even as a tourist, in well over a decade. Attending a single, informal dinner in Houston does not place Mr. Sargeant at the center of any Naftogaz or Ukrainian business plan."
As for funding Parnas in Ukraine, Sargeant claims he agreed to loan a friend some money because Parnas claimed to be "broke."
WhatsApp messages between the two seem to support this.  During one exchange, Parnas asked Sargeant to approve more money and Sargeant commented "Just getting expensive flying u guys everywhere LEV."

During another exchange in which Parnas asked Sargeant to approve yet another expense, Parnas also says, "we got a deal from Rudy's guy."
Sargeant responds, "Don't bother w this stuff pls."