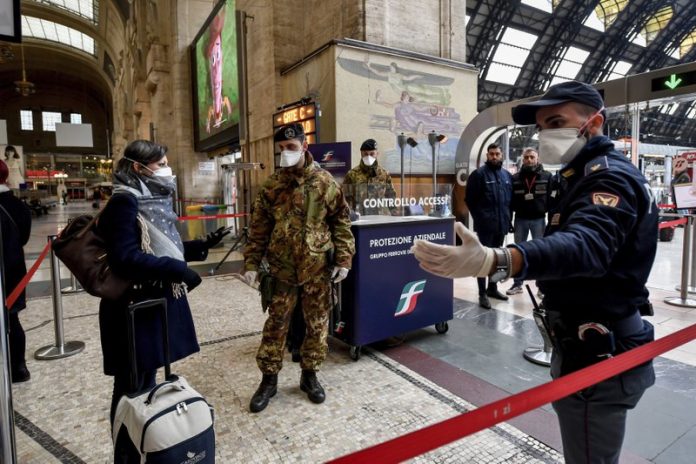 Fear over the new coronavirus epidemic sent global stock markets and oil prices plunging Monday, touched off prison riots in Italy and caused a cascading shutdown of sites and events ranging from Saudi schools to a Holocaust march.
While many of Beijing's white-collar workers returned to work as new infections subsided in China, some 16 million people under a widespread lockdown in northern Italy struggled to navigate the new rules of their mass isolation.
Global oil prices suffered their worst percentage losses since the start of the 1991 Gulf War, and the S&P 500 plunged so quickly in the first few minutes of trading that it triggered a 15-minute halt in trading.
In all, more than 110,000 people have tested positive for the disease and more than 3,800 people with the virus have died, most of them in China. Some 62,000 people have already recovered, but realization seemed to be dawning on investors that they underestimated the long-term effects of widespread quarantines.
Meanwhile, inmates at more than two dozen Italian prisons rioted against restrictions on family visits and other containment measures, and six died after they broke into the infirmary and overdosed on anti-psychotic medicine.
Travelers at Milan's main train station had to sign police forms self-certifying that they are traveling for "proven work needs," situations of necessity, health reasons or to return home. They also needed to provide identity documents, contact numbers and an exact reason for travel.
Italy's financial hub, Milan, and the popular tourist city of Venice were among the places under the quarantine lockdown. Across Italy, museums and archaeological sites were closed, weddings were canceled and restaurants were told to keep patrons a meter (more than 3 feet) apart. The country has counted 7,375 cases of COVID-19 virus and 366 deaths, more than any other country outside of Asia.
Pope Francis celebrated Mass by himself Monday at the Vatican hotel where he lives, live-streaming the event, but he did resume some meetings.
Trying to send a message of confidence in the economy, French President Emmanuel Macron and his wife walked on Paris' famous Champs-Elysees avenue, but kept a one-meter security distance from passersby. "I'm shaking hands using my heart," he said, as he waved to people from a distance.
He called for a proportionate government response.
"We cannot shut down the country but we need to protect the most fragile people," he said.