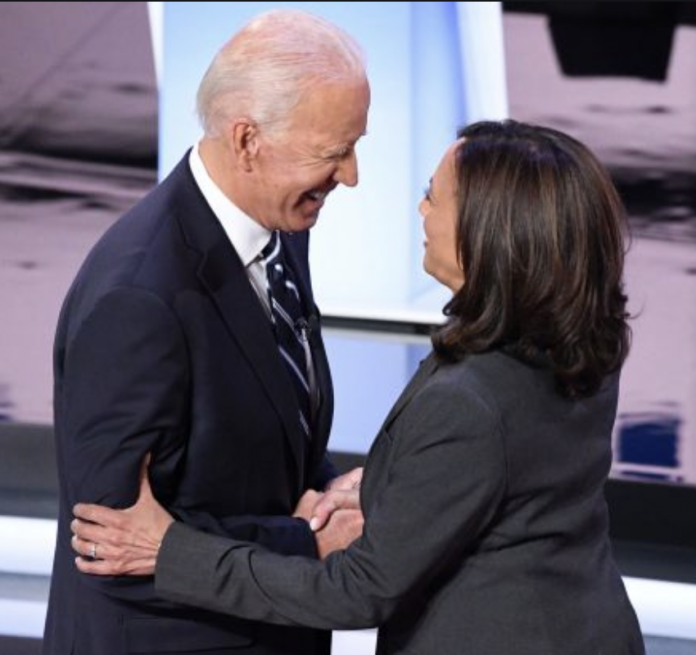 Former 2020 Democrats continue to throw their support behind Joe Biden in droves. Prior to last week's Super Tuesday, Pete Buttigieg and Amy Klobuchar suspended their campaigns before endorsing Biden. Then, after Super Tuesday, Mike Bloomberg followed suit.
Newfound backers of Biden are not mutually exclusive to candidates who have recently terminated their own presidential campaigns. Beto O'Rourke also endorsed Biden last week; now, former 2020 Democrat Kamala Harris is the latest past candidate to rally behind the former vice president.
A Closer Look at Kamala Harris' Endorsement of Joe Biden
Earlier today, Harris posted an online video noting her support of Joe Biden's presidential campaign. In this footage, the California senator stated that she believes Biden has served America "with dignity." Shortly thereafter, Harris claimed that Americans "need" Biden and professed her willingness to "to everything in [her] power to help elect him."
.@JoeBiden has served our country with dignity and we need him now more than ever. I will do everything in my power to help elect him the next President of the United States. pic.twitter.com/DbB2fGWpaa

— Kamala Harris (@KamalaHarris) March 8, 2020
This didn't mark the end of Harris' endorsement though. The California senator continued, stating that she's known Biden for quite some time and that she believes in him. An excerpt from Harris' statement reads as follows:
"One of the things that we need right now, is we need a leader who really does care about the people and who can, therefore, unify the people. I believe Joe can do that."
Speculations Surrounding Surge in Biden's Endorsements
Within two weeks, Biden's candidacy for president went from perilous to revived in the wake of the aforementioned endorsements. The timing of these endorsements, however, has raised certain eyebrows and generated various speculations.
One of the most prevalent speculations of all asserts that the DNC is ultimately rallying behind Biden to block Sanders from becoming the nominee. The Vermont senator seemingly gained momentum after winning the Nevada caucus and New Hampshire primary; although, this momentum experienced a halt following the boosts to Biden's candidacy via endorsements from Butttigieg, Klobuchar, Bloomberg, O'Rourke, and now Harris.
Ultimately, there are a fair amount of Americans who believe that deals were made behind the scenes in order to encourage Biden's former opponents to rally behind him.
Thus far, remaining Democrat candidates in the race include Joe Biden, Tulsi Gabbard, and Bernie Sanders.