The stock price of Crowdstrike Holdings (NASDAQ: CRWD) skyrocketed during its initial public offering on Wednesday.
Crowdstrike shares traded as much as $64.55 each around 11:35 a.m. but eventually closed at $58 each, up by 70.59 percent. The company's stock went up additional 1.62 percent to $58.94 per share after-hours, according to data from Google Finance.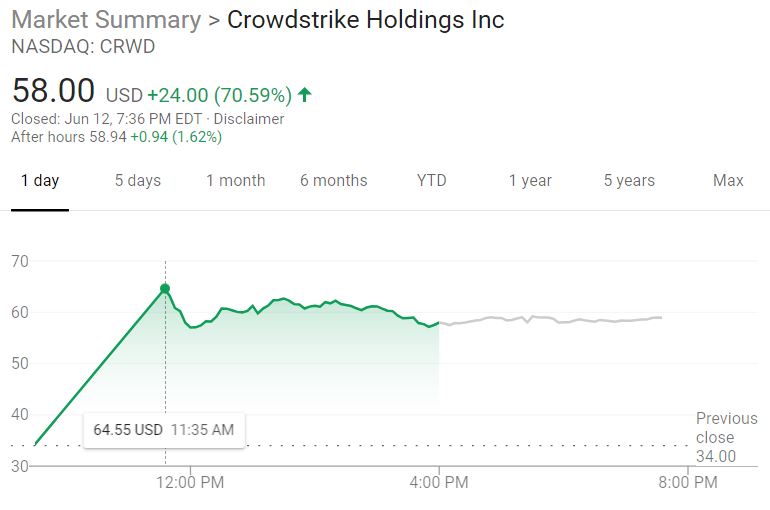 The security software vendor priced its IPO at $34 per share—higher than its price target of around $28 to $30 per share. It offered to the public 18 million shares of its Class A Common stock.
Crowdstrike's successful market debut resembles Zoom Video Communications (NASDAQ: ZM), which gained more than 72 percent in its IPO.
The security software vendor's investors are obviously optimistic about its future given its financial performance. Its annual recurring revenue (ARR) consistently grew from $59 million in Q4 FY17 to $313 million in Q4 2019. Its subscription YoY growth rate is 137 percent and dollar-based net retention rate is 147 percent.
Crowdstrike has the right  architecture to be the fourth pillar of cloud computing
"Some of the world's largest enterprises, government organizations, and high profile brands trust us to protect their business," according to Crowdstrike in its Form S-1 Registration Statement to the Securities and Exchange Commission (SEC).
As of January 31, 2019, Crowdstrike had 2,516 subscription customers worldwide including 44 of the Fortune 100 and 37 of the top 100 global companies.
In an interview with CNBC's Squawk Alley, Crowdstrike CEO George Kurtz said, "There's been no Salesforce of security. We think we've taken the right approach and created the right architecture to be that fourth pillar of cloud computing."
In a separate interview with CNN, Kurtz emphasize that the company competitive because of its ability to prevent data breach. He said, "Preventing a breach is much more important than preventing malware."
Kurtz explained that stopping malware is also important and it is a subset of a data breach. He added that Crowdstrike is "providing an incredibly valuable technology and service in area where the landscape is ever evolving"
Furthermore, Kurtz believe that Crowdstrike has significant growth opportunities in the cloud. He noted that companies and governments embrace the cloud for their legacy technologies.