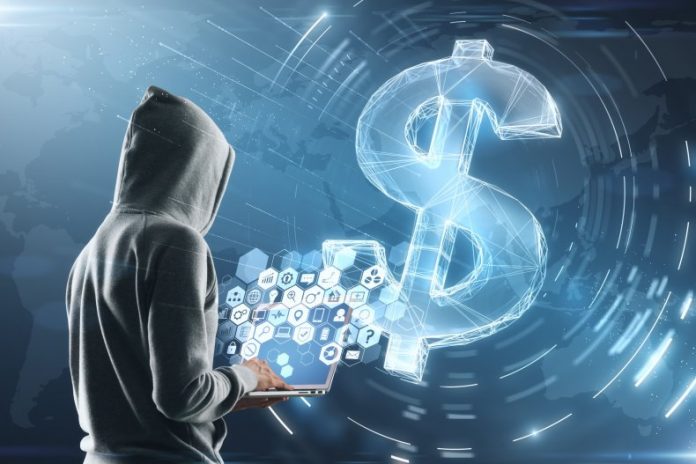 The USA Herald reported on a Federal indictment unsealed in February. The indictment was filed against members of the "Lazarus Group," a North Korean government-backed hacker gang. The group is a reflection of the growing vector of 'cryptocurrency crimes'.
Assistant Attorney General John C. Demers of the Justice Department's National Security Division explained the crime spree. "North Korea's operatives are using keyboards rather than guns. Stealing digital wallets of cryptocurrency instead of sacks of cash. They are now the world's leading bank robbers."
Their crimes include a series of bank breaches since 2014 that netted 1.3 billion. They also infected ATMs with WannaCry Ransomware. And this allows for unlimited withdrawals. The gang also distributed fake crypto apps that opened backdoors into users' computer networks.
The busy hacker gang was able to hack $75 million from a Slovenian cryptocurrency company, swipe $24.9 million from a well-known Indonesian crypto firm, and steal $11.8 million from a New York-based fintech services company, between 2017 and 2020.
The Cybersecurity and Infrastructure Security Agency (CISA) is a combined array of government and law enforcement agencies in the U.S. that investigate and identify cyber threats like crypto crimes. In the US they work closely with the Attorney General's Cyber Digital Task Force.   
Virtual currencies at-risk
The Lazarus Group is just another high-profile indication that cybercrime is hitting the crypto-currency exchanges more often. As virtual currency becomes more widely recognized as mainstream payment, there has been a clear shift to cyber crime.  
The virtual markets and exchanges appeal to criminals because in hack attacks they are often easier to get in and often have fewer complications than more traditional financial institutions offer.
"Criminals aren't always reliable," Vallese said. "So there is a great deal of risk involved between the theft and the money reaching a hackers' accounts. With cryptocurrency, you cut out nearly all the middle-men."
 According to the October 2020 Attorney General's Cyber Digital Task Force, report virtual currency is "particularly attractive, adaptable, and scalable, as a target, for theft."
In 2020, there has been a lot of growth in the crypto marketplace. The COVID-19 techno-pandemic created a growing number of investors in digital coins. This was to offset losses and as a "store of value". Unfortunately, the more money in the digital exchanges – the more chances for savvy hackers and bad actors to commit cybercrimes.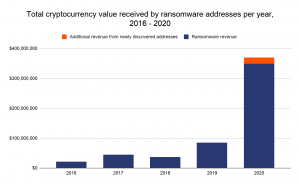 Cybercriminals target virtual currency 
According to Finaria.it data, crypto criminals stole $1.9 billion in 2020. In 2018, cryptocurrency crimes hit victims for $1.7 billion. And in 2019 the amount soared by almost 165% year-over-year to $4.5 billion.
Decentralized finance (DeFi) in related hack-attacks and scams cost about $129 million in crypto thefts in 2020. 
FBI special agent Justin Vallese, explained the growing threat vector, "Criminals are always looking for less risk and greater reward." For now, the world of virtual currencies can offer that.
Ransomware theft also on the Rise
According to initial data released by Chainalysis  2021 Crypto Crime Report, ransomware attacks skyrocketed last year. Theft through ransomware was first estimated to be  $371 million worth of cryptocurrency. This is a 336% increase over 2019 totals.
Ryuk was the most used ransomware. NetWalker was the second most used and fastest-growing strain of 2020.