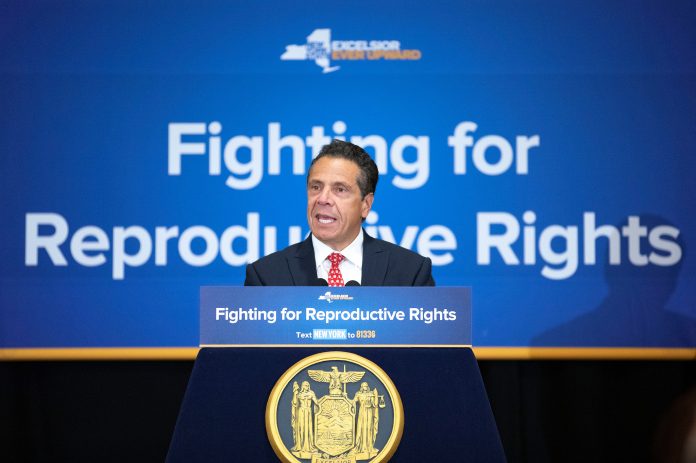 New York Governor Andrew Cuomo is defending the state's law on woman's rights to abortion after President Donald Trump attacked it during his State of the Union address on Tuesday night.
In an op-ed published by the New York Times, Cuomo accused Trump and his allies" of "intentionally spreading lies" about New York's Reproductive Health Act.
Cuomo says Reproductive Health Act merely codifies Roe v. Wade
The governor wrote, "The Reproductive Health Act guarantees a woman's right to abortion in the first 24 weeks of a pregnancy or when the fetus is not viable, and permits it afterward only when a woman's life or health is threatened or at risk. Contrary to what its detractors claim, the Reproductive Health Act does not allow abortions minutes before birth, nor does it allow third-trimester abortions for any reason."
"Third-trimester procedures are extremely rare, making up only about 1 percent of all abortions. The option is available for exactly the reason stated in Roe and successor cases: to protect the life or health of the woman."
Additionally, Cuomo emphasized that the Reproductive Health Act merely codifies the Supreme Court's decision in Roe v. Wade into New York State law.
"Mr. Trump and the religious right are spreading falsehoods about New York's law to inflame their base. Activists on the far right continue to mislead with the ridiculous claim that the act will allow abortions up to a minute before birth," according to the governor.
Trump suggested New York's law allows late-term abortion
In his State of the Union address, Trump stated that New York's law and a proposed legislation in Virginia allows late-term abortions
The President said, "Lawmakers in New York cheered with delight upon the passage of legislation that would allow a baby to be ripped from the mother's womb moments from birth… And then, we had the case of the Governor of Virginia where he stated he would execute a baby after birth."
Trump requested members of the Congress to "pass a legislation to prohibit late-term abortion of children who can feel pain in the mother's womb." He encouraged them to "build a culture that cherished innocent life."