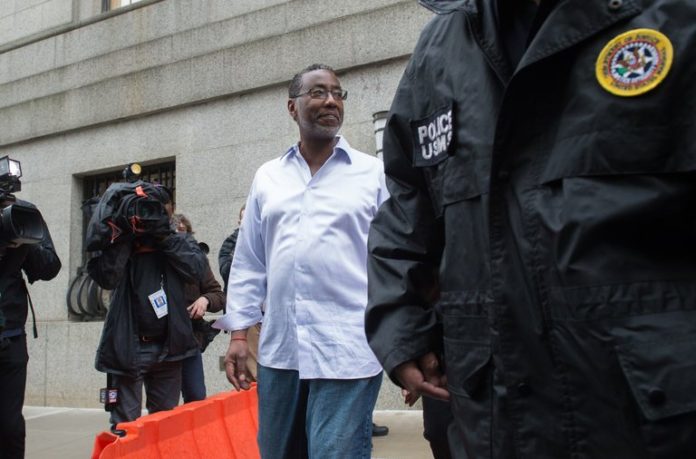 Federal prosecutors called their star witness in a bribery case against a one-time New York City prison union boss. According to the U.S. Attorney's Office, the path of corruption ran through now-defunct hedge fund Platinum Partners.
Government witness Jona Rechnitz pled guilty to bribing police, the administration of New York Mayor Bill de Blasio and corrections officer union leader Norman Seabrook.
To start with, the West Coast developer said he donated $5,000 to the NYPD football team to gain favor with the police . Then Rechnitz worked with a local partner to raise money for de Blasio's 2013 bid for office.
According to Rechnitz, he and his partner used the "bundling" process to raise more money for de Blasio that they legally could.
Rechnitz said Seabrook, a de Blasio ally, took a $60,000 kickback. Platinum disguised it as a bill for Knicks tickets, the witness said and, in return, Seabrook moved $20 million into Platinum. As a result, fund CEO Murray Huberfield is also on trial.
The mayor's office denies Rechnitz's accusation. Prosecutors say they don't intend to bring charges against the mayor.
Meanwhile, former Platinum executive Gilad Kalter testified against Rechnitz. Kalter said Rechnitz tried to get a New York police union to invest in the hedge fund. Although the police union didn't, Seabrook's prison guards' union threw $20 million into Huberfeld's business.
Platinum is now in bankruptcy court, and the Correction Officers' Benevolent Association can't reclaim any of that money.
At the time of Rechnitz's and Seabrook's alleged criminal activities, Platinum suffered from mass withdrawals. It was even identified as risky by the union's own lawyers.
Trouble follows Platinum Partners
These haven't been the hedge fund's only problems. Earlier in the year, insurers asked a state judge to say they don't have to cover Platinum or its managers. A separate fraud charge drove that request as much as the alleged kickback scheme did.
The two insurance companies said Platinum claimed it was unaware of circumstances that could lead to a claim. But the hedge fund already had received a grand jury subpoena when it made that claim, they charge.
So several people connected to Platinum face charges in a $1 billion fraud scheme, allegedly exaggerating the value of their investments in an oil driller.
This fraud case doesn't directly connect to the bribery charges that were the subject of Rechnitz's testimony.