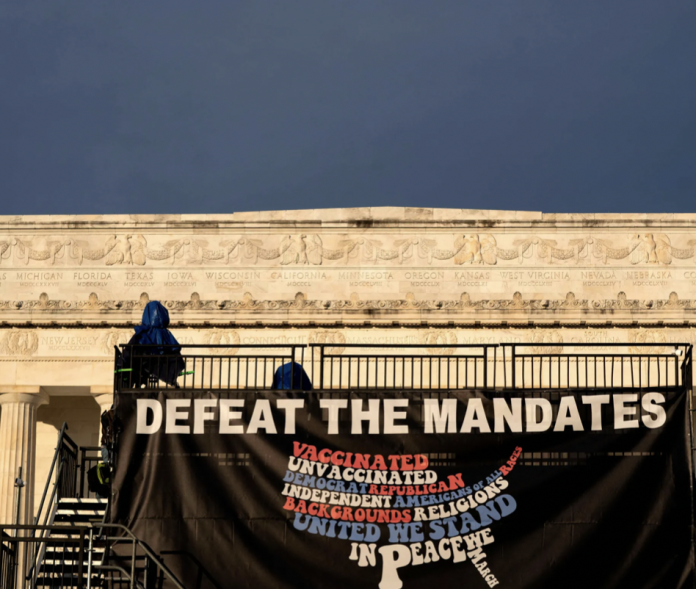 It's 2022 and countless Americans across the United States are more than eager to see COVID vaccine mandates go away.
For starters, the vaccines being mandated in various communities do not even stop the infection or transmission of COVID. Vaccinated individuals can still catch the virus and pass it along to others; even the CDC has conceded as much.
For what it's worth, this year has seen some progress in the overturn of draconian mandates. Earlier this month, the United States Supreme Court tossed the president's COVID vaccine mandate for big businesses. This served as a breath of fresh air for many Americans.
Days later, a Texas federal judge overturned a COVID vaccine mandate that applied to US federal employees. This weekend, tens of thousands of Americans took to the streets in Washington D.C. to peacefully protest for the end of all vaccine mandates.
A closer look at the "Defeat the Mandates" march in the nation's capital
Around 12PM, protesters gathered at the Washington Memorial and Lincoln Monument to take a stand against mandates. Many folks in attendance noted how places like San Francisco, New York City, Washington D.C., Boston, Los Angeles, etc., have heavy vaccine mandates in effect.
The protesters also spoke about the importance of informed consent and individuals' rights to make their own medical choices. Photos and videos of the march likewise went viral on social media.
The tens of thousands of people who showed up in the nation's capital for the march also wore anti-mandate apparel and carried relevant signage.
WATCH: This man and his son traveled from Arizona to Washington, D.C. for the #DefeatTheMandates rally. He's fully vaccinated but says he and his family fled Seattle to avoid the mandates.pic.twitter.com/SFKnBw7cAJ

— Election Wizard 🇺🇸 (@ElectionWiz) January 23, 2022
Demonstrators even spoke to news stations about their various concerns. One person stated it was scary to be turned away from a restaurant all for the supposed transgression of not having vaccination papers.
Others at the event stated they walked away from their jobs once employers started requiring COVID vaccinations.
More on Defeat the Mandates
On DefeatTheMandatesDC.com, the site calls for an end to firing, demonizing, and segregating individuals based on whether or not they've taken a COVID shot.
Thousands have gathered at the #defeatthemandates protest at the Lincoln Memorial today in Washington, DC.pic.twitter.com/bsoAtevpJx

— Michael P Senger (@MichaelPSenger) January 23, 2022
These demonstrators likewise made it clear they are not against COVID vaccination itself; the issue only arises when people become forced to get the vaccine and subjected to job loss, exclusion from society, and other penalties if they refuse.