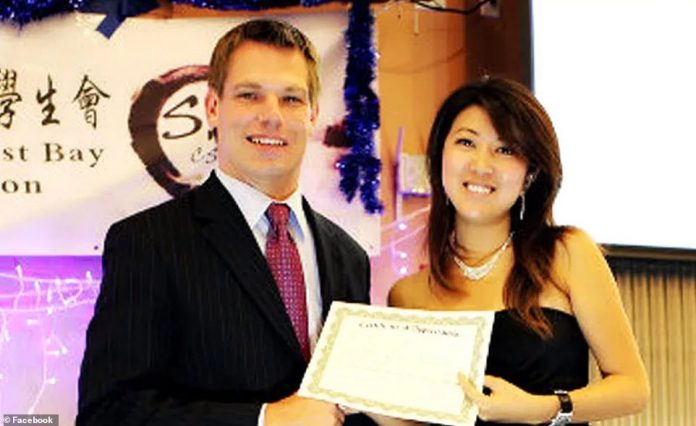 Eric Swalwell was compromised by a Chinese spy named Christine Fang who reportedly worked with him in a fundraising capacity during his 2014 campaign, according to an exclusive report by Axios.
In 2015,  the FBI notified Swalwell that his office had been compromised by Fang also made attempts to ingratiate herself with other major politicians in the Bay area.
An anonymous political operative confirmed that Swalwell's team was aware of Fang's fundraising activities but has zero evidence of illegal contributions. The FB also told Swalwell that he is not under investigation at this time for any wrongdoing.
"I was shocked. Just over six years ago, I was told about this individual, and then I offered to help, and I did help," Swalwell said. He added that the FBI thanked him for his help and "that person is no longer in the country."
Although Swalwell has been exonerated, that didn't stop him from claiming that the Trump administration leaked pertinent details to Axios in order to conjure up the story. He went on to add that his role in the impeachment inquiry as a member of the House Judiciary and Intelligence committees played a role in why the story broke.
"If this is a country where people who criticize the president are going to have law enforcement information weaponized against them, that's not a country that any of us want to live in," Swalwell said to CNN. "I hope it is investigated as to who leaked this information."
Axios responded to Swalwell's claim that the story was a partisan hit job, explaining they are a credible news organization that does not take direction from the president. Either way, the news puts the Democratic party in a pickle.
President Trump along with other prominent Republicans have been vociferous critics of the Democratic Party's deep ties to the Chinese Communist Party.
A prime example of this being the Hunter Biden laptop scandal, which revealed through a series of leaks that the Biden family has shadowy relations with despotic regimes across the globe including China and Russia.
This is a classic example of the pot calling the kettle black. We all remember the Russia investigation and its endless wave of scurrilous claims that Trump was an agent of Moscow, which turned out to be entirely false.
To add insult to injury, the Horowitz Report showed that the FBI predicated its investigation on false information and even lied to a federal judge to obtain a FISA warrant. Republicans could certainly use the Swalwell story to bolster their claims that the incoming Biden administration will return to 'business as usual' with China.
Taking a step back from partisan politics, one is left with a serious question – what is to be done about China's increasing attempts to undermine American democracy?
Because this time the country is facing something far more dangerous than the Russian boogeyman.
—————————————-
Have a story you want USA Herald to cover? Submit a tip here and if we think it's newsworthy, we'll follow up on it.
Want to contribute a story? We also accept article submissions – check out our writer's guidelines here.