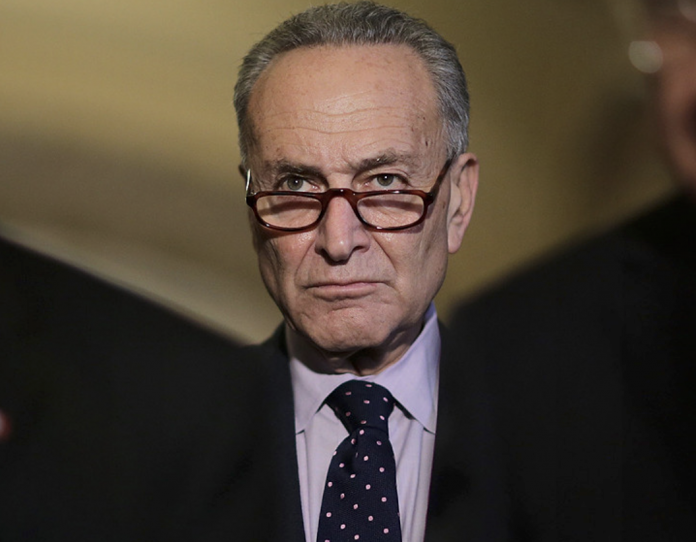 Recent news reported by The Hill affirms the rise of Democratic concerns about the upcoming meeting between President Donald Trump and Russian President Vladimir Putin.
On Tuesday, Senate Minority Leader Chuck Schumer said he was worried about "what [Trump] would give away" without the presence of advisers at the meeting.
A Backstory
Over the past few weeks, Trump has met with various world leaders. While his supporters have championed these meetings, Trump's political adversaries have been less enthused. They questioned the president's temperament, judgment and ability to work with other world leaders.
Trump is scheduled to meet with Putin on Monday in Helsinki, Finland.
This rendezvous will occur as the Russia investigation remains ongoing in the United States. A significant percentage of Americans still believe that Trump colluded with the Russian government to win the 2016 election. Putin has denied any and all allegations of such acts.
An Overview of Schumer's Remarks
Schumer has not held back regarding his reservations about Trump. He also recently stated that North Korean leader Kim Jong Un and Chinese President Xi Jinping "took [Trump] to the cleaners" after meeting with him. Now, Schumer has expressed concerns about the president's preparation to convene with Putin.
"It's even worse for him to meet with a very, very clever, out-for-himself man like President Putin, alone," Schumer said. "And I am very much afraid [of] what he would give away without any advisers to keep him in check."
Trump's critics have strongly condemned his decision to meet with Putin without advisers; some even suggested that Trump and Putin may collude with each other during the Finland summit.
What Do the American People Think?
Thoughts regarding the president's forthcoming meeting are largely polarized. Overall, Trump's supporters remain in favor of it, while his critics maintain greater amounts of skepticism.
Readers of The Hill also shared their thoughts about the upcoming Finland summit:
"I'm not a fan of Schumer but I, too, am worried about what Trump might do or say at this meeting."
"The derangement of liberals is a source of unlimited levity."
"The American people have a right to know EXACTLY what Trump is saying."
(This report was loosely related to previous USA Herald coverage regarding the forthcoming Finland summit.)