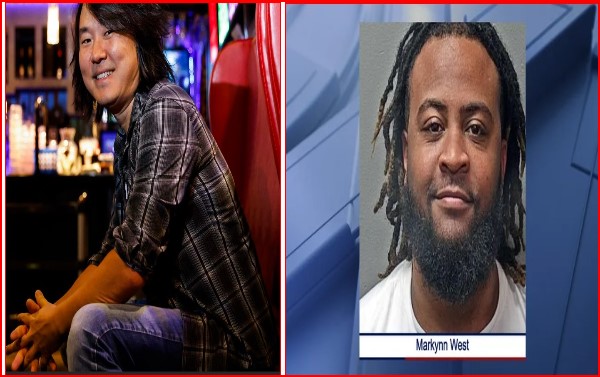 Wednesday's arrest of Markynn West,28, in last month's shooting death of Chin "Jin" Shin, still leaves a lot of unanswered questions.
KDFW-TV (Channel 4) reported that on Aug. 15, Fort Worth police and paramedics responded to a call about a minor car accident at the intersection of South University Drive and Interstate 30 at about 2:45 a.m.
The accident occurred between a Jeep Cherokee driven by Shin and a small sedan driven by a woman with 2 women passengers.
The woman called Markynn West to the scene. 
Police said West admitted he shot and killed Shin. And said there was an argument between West and Shin that became physical. West remained at the scene. And was released after being questioned by police.
There were additional reports that West did not show up alone and that up to 8 cars were on the scene surrounding Shin.
Police said they were "interviewing all involved subjects. "
During the 3-week-long investigation, the Asian community was frustrated by the slow progress and lack of information from authorities. And asked for a "thorough investigation and appropriate justice."
It is still not clear why the department moved to arrest West at this time. And as of Wednesday, a copy of the arrest-warrant affidavit has still not been made public.
Bail has not been set and it is not known whether West has an attorney.
Chin"Jin" Shin legacy of kindness and support
Chin "Jīn" Shin, 43 has been described as a kind and supportive man.  He was known as a leader in the Dallas-Fort Worth Asian-American community. 
A local businessman, he owned Encore Family Karaoke and co-owned DanSungSa's Dallas location. 
Friends and family say Shin was a "pillar in the Asian community", who was a big-hearted and fun-spirited man. He dedicated his life to giving back.
May Naing Joe, Shin's former partner, told The Dallas Morning News they share a 14-year-old daughter. And Shin devoted "a lot of his time to" his child.
"I am broken that he was robbed of his life like this, and Ella and I are robbed," Joe said. "Ella is robbed of a father and all that she could have with him."
Comedian Peng Dang of Arlington said he met Shin when he showed up to support him at a comedy show. And it was a "simple gesture that meant everything."
"He came up to me and said, 'Hey, I just saw your face on the poster, and to come out and support a fellow Asian,'" Dang recounted. "He really felt we didn't support our own in Dallas enough, and he wanted to change that."
Dang said he saw Shin on the day he was killed, and noted he seemed "very positive about the future."
"He was just starting to see the impact — that Korean culture is making waves in America and right here in Dallas. And he was very proud of it, because he had been working on it for a long time," Dang added.
A GoFundMe account to cover Shin's funeral expenses and his family's legal fees has raised more than $84,000. Leftover funds will go to his daughter, the fundraiser said.
"We must carry on Jin's legacy of extending a helping hand to those in need," his family wrote. "He truly believed that even the smallest gesture or act of kindness can have a huge impact on someone's life. … Although we will miss him dearly, we must remember to live life to the fullest for Jin."