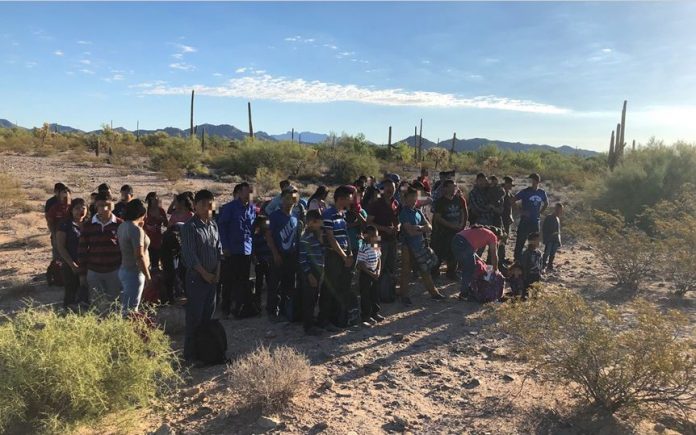 The Department of Homeland Security (DHS) decided to use DNA testing to determine whether the migrants crossing the U.S.-Mexico border and claiming as family units are telling the truth.
According to CNN, the DHS will launch the Rapid DNA testing program at two ports of entry next week. The department will run the program for two to three days.
It is the latest move of the Trump administration to deter the influx of large group of migrants— mostly families or people acting as family units from Central American countries attempting to enter the United States and apply for asylum.
From October 2017 to February 2018, the number of adult migrants traveling with children who are not related to them increased by 315 percent. These people are falsely claiming to be relatives to "gain entry" to the U.S., according to the DHS.
Last month, former DHS Secretary Kirstjen Nielsen said, "Cases of 'fake families' are popping up everywhere. And children are being used as pawns."
She also stated that the department discovered and took down "child recycling rings." According to her, "We've broken up so-called 'child recycling' rings, if you can believe it, in the last couple of months, which is where smugglers kidnap a child. Once they get in, because, as you know, we can only hold families for 20 days, they send the child back and bring the child back with another family – another fake family, another adult."
DNA testing is part of a "larger investigative process"
ICE Acting Deputy Director Derek Benner told CNN that the DNA testing is "part of a larger investigative process." He made it clear that it is "not screenings" and "not just random application of this."
In addition, Benner said, "This is a pilot designed to assess the usefulness of this technology in an investigative process." He went on to say that the DNA testing is a "new ground" for the DHS.
Preventing traffickers from abusing and using children to circumvent U.S. immigration system
National Border Patrol Council President Brandon Judd supports DNA testing as a way to protect children from abuse. According to him, "Rapid DNA is really the only way that we are going to positively be able to identify these children. Even if the cost is great, in order to protect these children, I think the cost is well worth it."
Meanwhile, Roy Villareal, the sector chief of Border Patrol in Tucson, Arizona believes that DNA testing will be effective in identifying groups of migrants pretending as family units.
In an interview with KTAR News, Villareal said border agents requested the pilot program after witnessing that human traffickers are using children to take advantage of the loophole in the U.S. immigration system.
"One of the elements behind that is it's a cyclical pattern in which they're utilizing the same kids. In a sense, you show up with this child, you pretend the child is yours, you recognize that you're exploiting a loophole whereupon then you're released. And you turn the child back over to the smugglers, who fly the child back to Guatemala, Honduras, El Salvador and they repeat that cycle. It's a disgusting practice, but unfortunately it's not an anomaly in this world," he said.