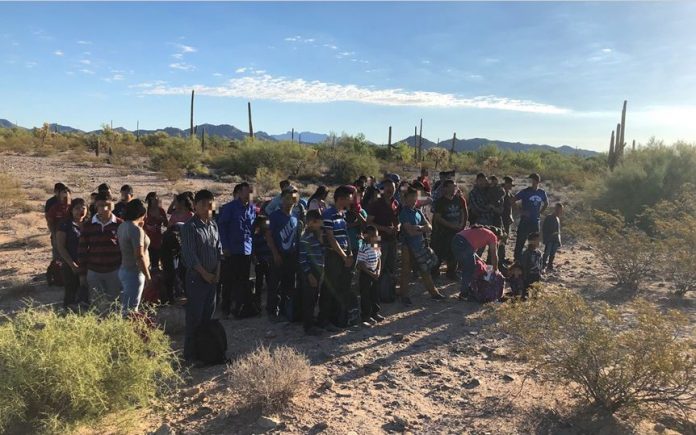 A very small percentage of arrested immigrants particularly those family units who entered the United States illegally were deported, according to an official of the U.S. Immigration and Customs Enforcement (ICE) agency.
During an interview with KTAR News' Martha Maurer, ICE Phoenix Field Office Director Henry Lucero, said, "Two percent of all family units that are apprehended ultimately get repatriated. That means 98 percent are going through proceedings or we are actively looking for them right now."
Here's what attract large groups of immigrants to illegally enter the U.S.
Lucero explained that the Flores Agreement prohibits the federal government from detaining family units for more than 20 days. ICE normally releases them from custody within 10 to 13 days.
According to him, "People know that, smugglers know that. They take advantage of it." Lucero added that the situation is probably attracting "family units or people acting as family units" from Central American countries to enter the U.S. illegally and seek asylum.
Over the past few months, Arizona Border Patrol agents have been encountering large groups of immigrants composed of family units. Instead of running away from agents to enter the country illegally, immigrants are now surrendering themselves and seeking asylum.
ICE has been releasing large number of immigrants from their custody to non-government organizations (NGOs) to provide temporary shelter, food, and assistance. They are required to wear ankle monitors and tell the agency where they are going.
According to Lucero, more than 95% of the immigrants are not staying in Arizona. Most of them are heading east of the state, generally to the East Coast. He added that ICE gives them notices to appear in the city where they are going within 7 to 10 days following their release.
Additionally, he said it takes several years for the USCIS to process asylum application. As a result, asylum seekers fall out of their radar. They may get a final hearing to see an immigration judge after two or three years of their release from custody. However, an asylum seeker "may not show up" because that he/she feels that the immigration judge will deny his/her application.
Furthermore, Lucero stressed that if immigrants fail to show up on their court hearings or remove their ankle monitors, they become fugitives. ICE agents in the state where the incident happened will be looking for them.
Border Patrol agents face "daily crisis"
Last month, Yuma Sector Chief Patrol Agent Anthony Porvaznik called the influx of large groups of immigrants as a "daily crisis." They are compelled to take manpower and resources from their security mission and redistribute them to a humanitarian mission. For example, agents rescued a group of immigrants at the Arizona desert in June when the weather was extremely hot and deadly.
Last year, Border Patrol agents arrested almost 13,000 immigrants composed mainly of families. They are expecting that number to double this year.