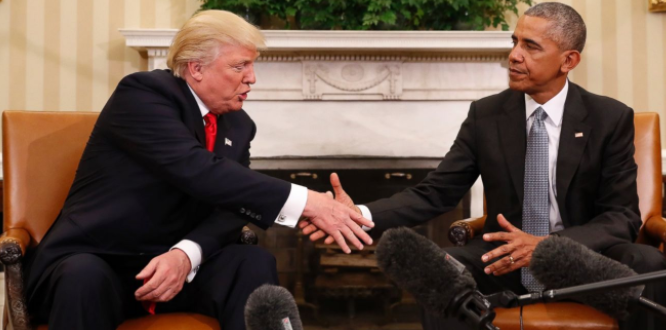 Earlier today, CNN asserted that President Trump's tense relationship with former President Obama signified his exit from the "presidential fraternity." The strain between the two men is no secret; during the 2016 election, Obama campaigned against the current President, stating that his victory would be an "insult to my legacy." Likewise, President Trump was very outspoken regarding his displeasure with Obama's policies and frequent golf trips. There is not much to suggest any warm feelings or amicability between these two men. White House advisers and former officials have confirmed the absence of any professional relationship between President Trump and Barack Obama.
There was a point in American history where President Trump and Obama appeared to get along. After the 45th President's victory, Obama spoke with him in the Oval Office for over an hour. Later that day, President Trump claimed that he and Obama had developed "warm ties" with one another. On Inauguration Day, the country saw the two gentlemen smile and shake hands. First Lady Melania Trump even gave Michelle Obama a lovely gift from Tiffany's. Despite the warm displays, it would not be unreasonable to suggest that President Trump and Obama mutually dislike each other. Any reasonably mature adult can smile, shake hands, and look happy for a few hours; exterior appearances are not always a reflection of inner feelings.
However, more agitation festered after President Trump stated that Obama wiretapped his Trump Tower office. Despite the strong skepticism, it turns out the 45th President was telling the truth and new evidence arose to support his claims. When Obama became aware of the accusations, he was reportedly "irked and exasperated," and denied the validity of the allegations. Despite this, representatives of the Obama Team and the Trump Team attempted to make amends: White House Chief of Staff Reince Priebus and the former Chief of Staff Dennis McDonough conversed, but no meaningful progress was achieved. President Trump and Obama have not spoken since and during a May interview with CBS News, the President made the following statement: "He [Obama] was very nice to me with words and when I was with him. But after that there has been no relationship."
In previous times, sitting Presidents have relied on advice from their predecessors; the disaccord between President Trump and Obama is dissimilar to relationships that previous Presidents have had with their predecessors and successors. The option of being able to ask former Presidents for help has often been perceived as helpful. Based on the current state of affairs, it does not appear as though President Trump will be consulting Obama anytime soon.
Quite frankly, the frosty dispositions between President Trump and Obama should not come as a surprise to any American. Neither one of these men have ever truly liked each other. Placing politics and partisanship aside, Donald Trump and Barack Obama are very different men with contrasting views on life and decision making. While President Trump may not be a member of the "presidential fraternity," he will undoubtedly go down in history as one of the best Presidents of the United States of America.