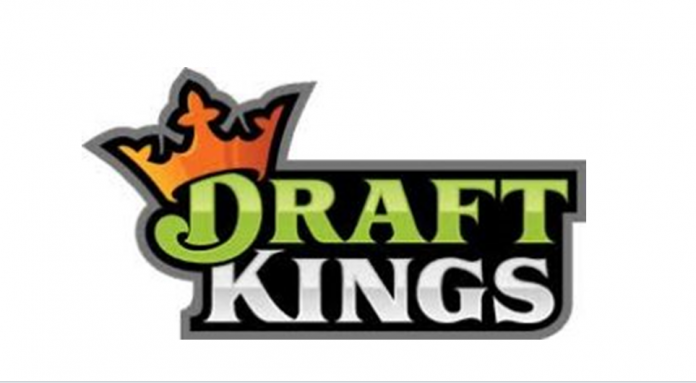 DraftKings Inc (NASDAQ: DKNG), the online sports betting company had an unlucky week—its stock price suffered a steady decline.
On Friday, DKNG fell by 4.52% to $48.82 per share and slid some more during the extended trading to $48.61 each. The stock declined steadily since Monday when its price was $61.41 per share. Over the past five days, DraftKings' stock price declined more than 26%.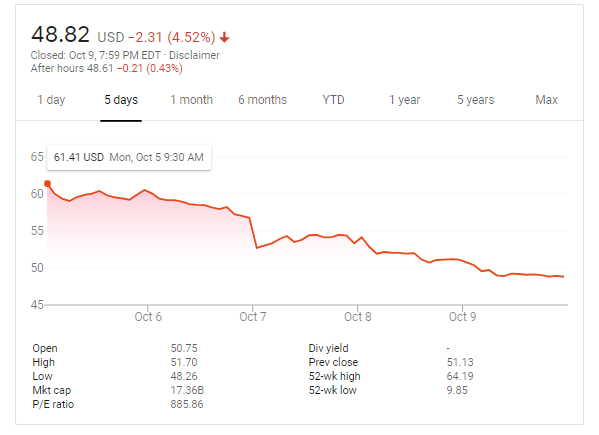 This year, DraftKings stock gained more than 400%. Comparatively, the S&P 500 is up only 4% for the same period. What are the reasons driving investors to be bearish on DraftKings shares this week?
NFL COVID-19 Outbreak scares investors
Over the weekend, the NFL announced several players who had been screened for the coronavirus tested positive for the disease. Teams like the New England Patriots, Tennessee Titans, and Las Vegas Raiders had players test positive for Covid-19.
The report sparked fear in investors who are banking on the NFL to complete a full season. But a rapid spread of the virus could mean the NFL pulling the plug on the season or at the very least suspending it until players tested negative and could play in a safe environment.
The Tennessee Titans had 23 players tested positive for COVID-19 since September 24. The most recent round of testing revealed several other players in the league were also infected by the deadly virus including New England Patriots cornerback Stephon Gilmore, quarterback Cam Newton and practice squad defensive lineman Bill Murray.
On Wednesday, the NFL disclosed that 31 players and 53 other personnel were confirmed infected with COVID-19 as of October 3.
In a statement, NFL Chief Medical Officer Dr. Allen Sills said, "In the nine weeks since the beginning of training camp, we have had a number of isolated, new positive cases of COVID among players and other personnel across nearly two-thirds of NFL clubs and one outbreak among the Tennessee Titans."
"We have said all along that we expect positive cases. As long as the virus is endemic in our communities, we will see new cases among our teams. Risk mitigation, not elimination, is the key. Our protocols are designed to quickly identify new cases, get individuals the care they need and prevent further spread of the virus," he added.
Furthermore, Dr. Sill reminded," It is critically important that we do not grow complacent in our rigorous application of measures proven to be impactful: always wearing face coverings, maintaining physical distancing, and practicing healthy hand hygiene. This 2020 season, our common opponent is COVID – it's all of us together versus the virus."
Stock pricing disappointments
On Wednesday, DraftKings announced the price of its previously announced offering of 32 million shares at $52 a share for a total offering size of nearly $1.7 billion. The DraftKings stock pricing reflected an 8% discount from the Oct. 6 closing price of 56.78.
The company and shareholders alike are selling a total of 32 million shares (16 million by DraftKings and 16 million by shareholders). Selling shareholders include Robert Kraft, the owner of the NFL's New England Patriots, and SBTech founder Shalom Mackenzie. SBTech sells sports-betting technology. Earlier this year, DraftKings bought SBTech in a merger with a special purpose acquisition company.
Draftings is not alone in the red zone this week. Other gaming stocks also fell on the news of the NFL's coronavirus cases this week.
Penn National Gaming (NASDAQ: PENN) dropped from $73.13 per share on Monday to $64.41 after-hours on Friday, down by almost 12% over the past five days.
Gaming giant Caesars Entertainment (NASDAQ: CZR) also had a similar experience. Over the past five days, the company's stock went down by 9% from $57.71 on Monday to $52.50 after-hours on Friday.
—————————————-
Have a story you want USA Herald to cover? Submit a tip here and if we think it's newsworthy, we'll follow up on it.
Want to contribute a story? We also accept article submissions — check out our writer's guidelines here.