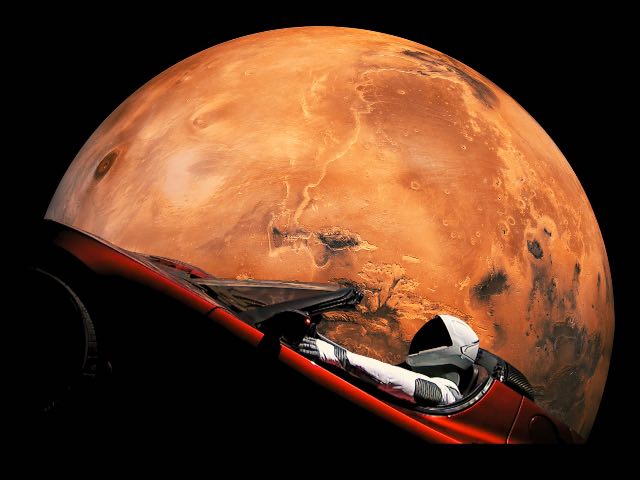 The SpaceX Starman flew closer than ever to Mars on Wednesday. The company's CEO Elon Musk suggested on Friday that a hauntingly beautiful photo of a Falcon 9 rocket, blasting off across the Sun, should be the flag for Mars. 
He was responding to the photo posted on twitter by spaceflight photographer, John Kraus. 
The photo shows a recent SpaceX launch of a Falcon 9 rocket sending up 60 satellites for the Starlink internet connectivity constellation. And Kraus's image showed the rocket blasting off across the sun.
In February 2018, Musk launched his Tesla Roadster into space as part of the first SpaceX launch of a Falcon Heavy rocket. The successful test proved that the Falcon is the world's most powerful rocket. That assertion includes any rocket NASA-built before SpaceX came on the scene.
Starman's Tesla was launched from Kennedy Space Center and secured to the second stage of a SpaceX-designed Falcon 9 Heavy Rocket. 
The driver's seat of the red Tesla is filled with a space-suited dummy that Musk affectionately named Starman. And the SpaceX Starman made it within 5 million miles of Mars last week.
Elon Musk is planning a city on Mars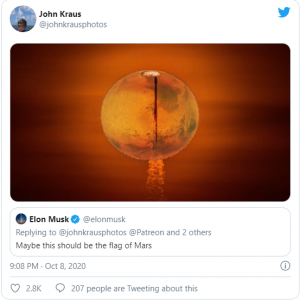 Musk has been pondering traveling to the Red Planet and colonizing it for years. SpaceX still has plans for two cargo missions to Mars in 2022. 
He also wants SpaceX's Mars city to be more than an outpost for astronauts. Hos plan is to build a Starship rocket and send humans to Mars as early as 2024. Once on Mars, SpaceX would establish basic life support systems.
Musk previously suggested a colony planet that would become the hub of an "Interplanetary Transportation System" to enable humans to become a multi-planet species in the new decade.
—————————————-
Have a story you want USA Herald to cover? Submit a tip here and if we think it's newsworthy, we'll follow up on it.
Want to contribute a story? We also accept article submissions — check out our writer's guidelines here.