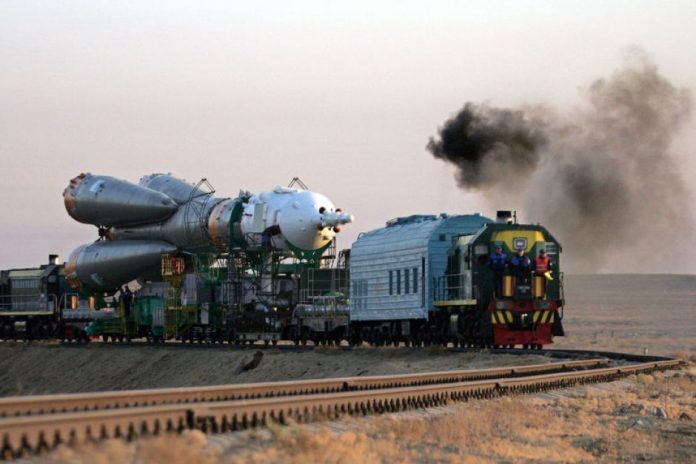 The Russian space corporation, Roscosmos is planning to build a new Amur rocket for an estimated $900 million. It is claiming that an Amur launch will only cost $22 million.
Methane powered booster rocket engines are in the planning stages and the proposed build is using re-usable stage one rockets, the first-time for Russia.
Tass, the Russian state news outlet reported that the first-stage booster will be reusable, but will still have a "non-recoverable" second stage. The rocket will stand 180-feet tall, and its reusable stage could launch a 10.5-ton payload into low-earth orbit.
"The central engine will be responsible for landing the stage back to Earth. In each flight it will operate three times: first, it will ignite at the launch of the rocket, the second time the engine will fire when the reentry stage is decelerated in dense layers of the atmosphere, and the third time will [be returning to the] ground with a soft landing on 'feet'," explained Igor Pshenichnikov, an Amur project engineer.
"According to preliminary calculations, the new rocket system, being created can begin providing flight tests, as early as 2026. It is intended to carry out a phased replacement of the existing family of Soyuz-2 launch vehicles," claimed a Roscosmos statement.
Amur rocket design is similar to Falcon 9
The SpaceX-designed Falcon 9 reusable rocket recently sent two NASA astronauts to the International Space Station (ISS). The design similarities of the Amur rocket to the Falcon 9 may be a sign that Russia is trying to compete in a renewed "space race."
"We would like our rocket to be reliable, like a Kalashnikov assault rifle," said Alexander Bloshenko, the executive director of Roscosmos, Advanced Programs and Science Program.
The plan for Amur's first stage is to fly 10 missions during the initial test phase. It is no coincidence that American company SpaceX plans to fly the Falcon 9's first stage for the tenth time in 2021.
Almost everything about the Amur rocket design is similar to the Falcon 9. The Armur is a smaller version that is supposed to be able to lift twice as much weight into orbit. 
Like the Falcon 9, the top of the Amur rocket has a slightly wider fairing than the core of the rocket. SpaceX's Falcon 9 rocket has a 5.2-meter diameter, and the proposed Amur has a 4.1-meter diameter. 
Both rockets have a set of "grid fins" located at the top of the first stage and similar landing legs at the base. 
The Falcon 9 is using nine engines and the first-stage rocket design allows it to return to its launch site or land on a nearby drone ship. The Amur booster is designed to use five RD-169 engines which will be launched from the Vostochny Cosmodrome in eastern Russia. And land at a site constructed along the Sea of Okhotsk.
 Russia has no plans to "splashdown" in the sea. The Sea of Okhotsk typically has rough conditions and poor weather.
Elon Musk responds to Russian rocket plans
SpaceX CEO Elon Musk said Russia's move to build a reusable rocket booster by 2026 is a "step in the right direction."
The tech billionaire also gave the Russian space agency some friendly advice when he tweeted out this week, "They should really aim for full reusability by 2026. The larger rocket would also make sense for literal economies of scale. Goal should be to minimize cost per useful ton to orbit or it will at best serve a niche market," Musk wrote. Then he noted that Russia's efforts were still running 15 years behind SpaceX space exploration advances.
—————————————-
Have a story you want USA Herald to cover? Submit a tip here and if we think it's newsworthy, we'll follow up on it.
Want a guaranteed coverage? We also offer contract journalism here. We practice journalism ethics and standards. We strive to present news stories with accuracy, fairness, impartiality, integrity, truthfulness, and public accountability.
Want to contribute a story? We also accept article submissions — check out our writer's guidelines here.