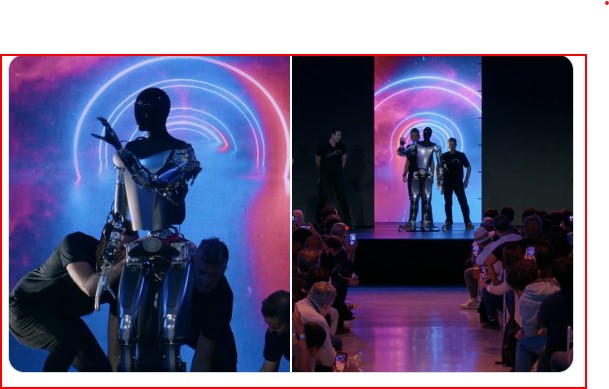 SpaceX and Tesla CEO Elon Musk unveiled the prototype of its own unique Tesla-bot. It is a humanoid robot named Optimus. 
Musk predicted that the electric vehicle (EV) company would produce millions of robots in the next 3 to 5-years.  And they would be able to sell them for under $20,000.
The big reveal took place on Friday, at Tesla's Palo Alto-based headquarters during its annual AI Day events.
At rest, TeslaBot is expected to consume 100 watts.. with a 2.3kWh battery, that means it'd last ~23hrs.
At work, it'd consume up to 500 watts, meaning you'd get 4.6hrs.. realistically it'd be somewhere in between.. 10-12hrs would be super-human. #AIDay https://t.co/xI2PIkmbHp

— techAU (@techAU) October 1, 2022
Musk has been teasing the AI creation since August 2021. And he's been talking about AI forever.
He believes the Tesla-bot business will ultimately be bigger than Tesla's EV revenue.
The company is pushing to finalize the design, build, and mass production of the robots. And there are plans to beta test the "Optimus" by using the robot to work jobs in Tesla factories. 
Musk described how important it is to have Tesla become a leader in AI. He wants to do more than just make "cool cars."
Friends. https://t.co/oNjnyN7xx9

— techAU (@techAU) October 1, 2022
Tesla-bot takes the stage
"As you know, last year it was just a person in a robot suit but, uh, we've come a long way, and compared to that it's going to be very impressive," Musk announced.