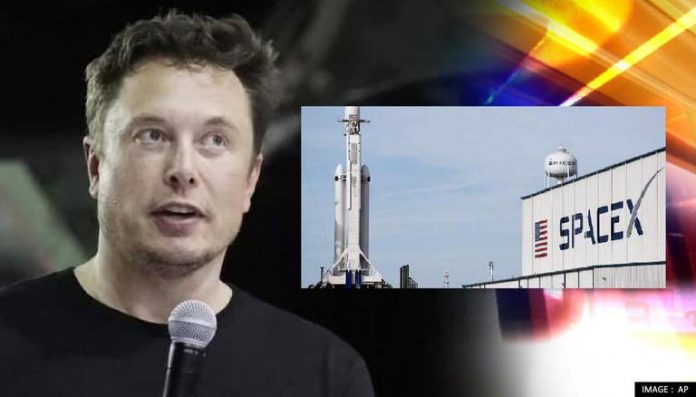 If Elon Musk and Jeff Bezos were competing for the title of world's richest person, Elon won. He is now almost $100 billion richer than the Amazon and Blue Origin owner. And his net worth is nearing $300 billion.
A Morgan Stanley analyst predicts the world's richest man will become even richer. And it looks like the Tesla CEO is on track to become the first-ever trillionaire.
Tesla success
The CEO of Tesla already added more than $36 billion to his fortune this week. The electric carmaker's shares spiked 12.7% with the announcement that the Hertz Corporation is ordering 100,000 Tesla's to build out its rental fleet by the end of 2022.
Monday's single-day growth of Musk's mega fortune was reported as the largest in the history of the Bloomberg Billionaires Index. The amount his personal fortune jumped was equal to the net worth of the 34th richest person in the world.
Tesla has been increasingly profitable over time. And has nine consecutive quarterly profits including last week's earnings report. The world's biggest EV carmaker delivered 241,300 vehicles by period's end of Sept.
In July 2020,  Musk's net worth surpassed the market cap of Toyota, the world's second-largest automaker.
This week Tesla surpassed the $1 trillion market cap. And joined the ranks of mega-companies including Apple, Microsoft, and Amazon. Musk celebrated the milestone on Twitter, tweeting out the message "Wild $T1mes!" to his 61.4 million followers.
SpaceX going up
"More than one client has told us if Elon Musk were to become the first trillionaire … it won't be because of Tesla," analyst Adam Jones said. "Others have said SpaceX may eventually be the most highly valued company in the world—in any industry." 
In total, Musk has added $119 billion to his fortune so far this year. This is based on Tesla's strong stock performance. And a recent share sale at SpaceX, which he also founded, added $11 billion to his net worth and boosted the company value to $100 billion. 
SpaceX is still privately held. It is currently valued at about $200 billion. But it is on the cusp of future potential growth. With Musk's recent satellite launches, space infrastructure, and deep space exploration the sky's the limit!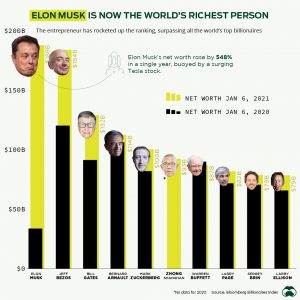 World's richest person gets richer
Musk's lead is widening over the former world's richest person title holders. He is now worth $184 billion more than Warren Buffett, the 10th richest person in the world, and has $150 billion more than No. 4 Bill Gates.
Musk has downsized his physical possessions as he has grown his companies. Last year he began to sell off his homes.
He still owns a rare car collection. In a 2013 auction at Sotheby, Musk purchased a rare 1976 Lotus Esprit sports car that was used in the 1977 James Bond film "The Spy Who Loved Me." His car collection includes a 1920 Ford Model T and a Jaguar Series 1 1967 E-type Roadster. And they continue to appreciate in value.
Baby Dogecoin started up as a joke. But Elon Musk's support turned it into a mainstream digital asset.