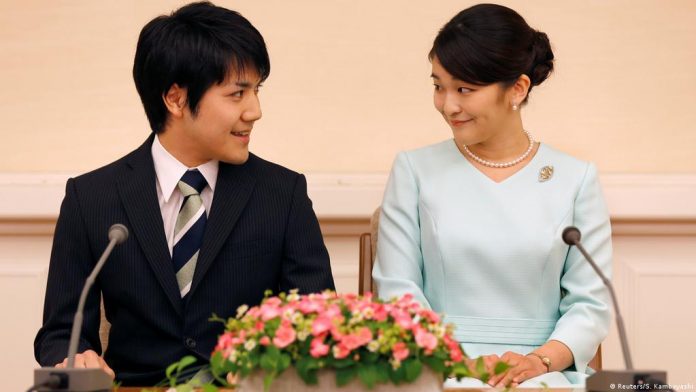 On Tuesday Japanese Princess Mako walked away from her royal heritage. And she married a commoner, Kei Komuro. There were none of the traditional celebrations of a wedding to celebrate the marriage. 
The thirty-year-old Mako left the palace wearing a pale blue dress and holding a bouquet. Outside the Akasaka Estate in Tokyo, she bowed to her parents, Crown Prince Akishino and Crown Princess Kiko. And then she hugged her sister Princess Kako.
The marriage document was submitted by an official from the palace on Tuesday morning.  It was certified by the Imperial Household Agency. 
The couple has been asking for the right to marry for three years. But there was strong opposition within the royal family and some of the Japanese media.
Japanese Princess Mako declines royal family payment
Mako had refused to take the 140 million yen ($1.23 million dollars) to which she was legally entitled. The legacy payment was supposed to be given for leaving the imperial family and giving up her title.
Mako's loss of royal status was required by law, which allows only male succession.
Only male royals have household names. Female members of the imperial family have only titles. And if they marry a commoner they are no longer royal.
She is reportedly the first imperial family member since World War II to decline the payment. And she chose to do so because of opposition and criticism of the marriage.
She and Komuro met at Tokyo's International Christian University, where they were classmates. And announced their engagement in September 2017.
Komuro raised by Single Mother 
The delays in the wedding date began when a financial dispute involving Komuro's mother surfaced. His mother received money from her former fiancé. Mother and son insisted the $35,000 was a gift. And her ex was claiming that the money was a loan.
In 2021, Komuro issued a 24-page explanation to the Royal family. And he insisted he would pay a settlement.
Komuro, 30, has been in New York since 2018. He was studying law. When he returned to Japan last month he was wearing his hair in a ponytail. And the media was negative.
They claimed that Japanese Princess Mako should stick with the tradition-bound imperial family. And not marry a commoner.
"We have been horrified, scared, and saddened … as false information has been taken as fact and unfounded stories have spread," Mako said in a written response to a question asked in the press conference.
"There will be different kinds of difficulties as we start our new life, but we'll walk together as we have done so in the past," Mako said.
"For me, Kei-san is a priceless person. For us, our marriage was a necessary choice to live while cherishing our hearts," Mako added.
Komuro responded: "I love Mako. I live only once and I want to spend it with someone I love. I hope to have a warm family with Mako-san, and I will continue to do everything to support her." 
The couple plans on starting a new life in New York.