The stock price of Digital World Acquisition Corp. (NASDAQ: DWAC) special purpose acquisition company (SPAC) linked to former President Donald Trump suffered a significant decline on Tuesday.
DWAC shares closed at $59.07 each, down by 29.56%. The stock declined by more than 6% to $55.34 per share after-hours, around 6:50 PM EDT.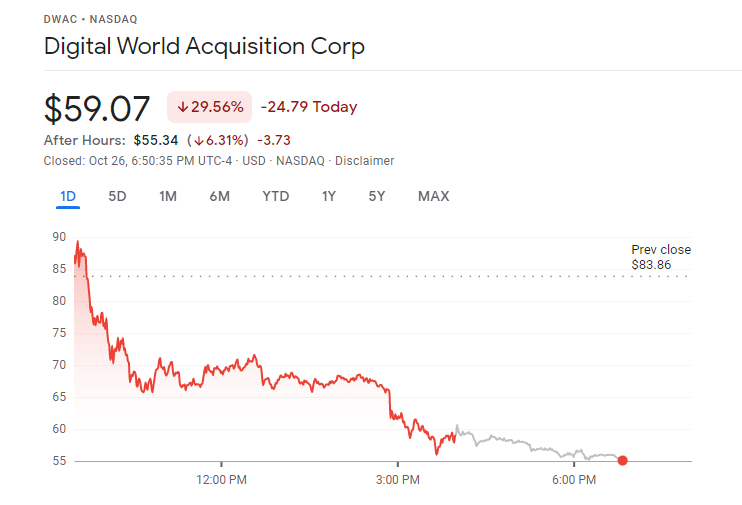 Last week, DWAC announced that it would merge with Trump Media & Technology Group (TMTG), which would become a publicly-listed company.
DWAC skyrocketed to $94.20 each on Friday. It was one of the most popular tickers on Reddit's WallStreetBets chatroom. It seemed that the SPAC became a "meme" stock.
On Monday, short-seller Iceberg Research announced that it is betting against DWAC citing the reason that Trump is the biggest beneficiary of the combined company. It only sees "risk for investors in the near future"
No opinion on the probability of success of TMTG. But SPAC holders don't own a piece of this project yet. Trump has leverage, not them.

— Iceberg Research (@IcebergResear) October 25, 2021
Iceberg Research's tweet caused DWAC to drop 11% on Monday. The SPAC stock continues to plummet on Tuesday. It appears that investors are also reacting negatively to the former president's plans for his new social media company.
Trump says his social media platform will challenge big tech censorship
An hour before the trading started on Tuesday, Trump released a statement regarding his new social media platform Truth Social. According to him, his social media platform will "take on Big Tech censorship."
The ex-president added, "We are inviting people of all political stripes, and all different viewpoints, to come and participate once again in the great American debate. That's what our country is supposed to be about."
Furthermore, Trump said, "Unlike with the Big Tech platforms, there will be no shadow-banning, throttling, demonetizing, or messing with algorithms for political manipulation. We will not be treating users like lab rats for social experiments, or labeling alternative views as 'disinformation.' We will not silence our fellow citizens simply because they might be wrong or worse because we think that Americans can't handle the truth."
Moreover, the ex-president said his company plans to offer an on-demand video streaming service to compete with the "increasingly 'woke' and politicized 'entertainment' programming created by Big tech and Big Media players."
Trump decided to launch Truth Social after Twitter (NYSE: TWTR) and Facebook (NASDAQ: FB) banned him from their platforms for provoking the attack on the U.S. Capitol on January 6.
—————
Have a story you want USA Herald to cover? Submit a tip here and if we think it's newsworthy, we'll follow up on it.
Want to contribute a story? We also accept article submissions – check out our writer's guidelines here.