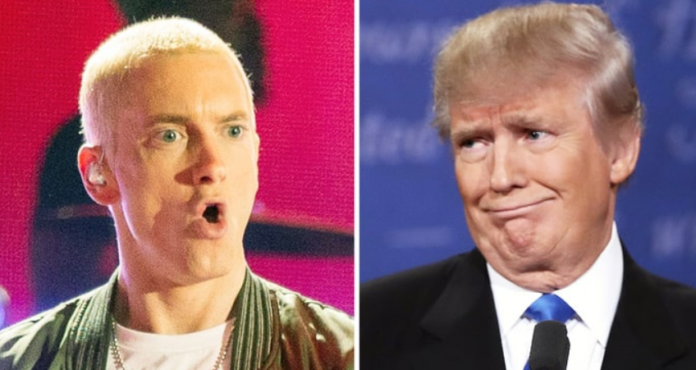 According to reports from The Hill, rapper Eminem wants President Trump to pay attention to him.
Why Does Eminem Want President Trump's Attention?
Last month, Eminem released a freestyle rap video titled "The Storm." Throughout the video, he slammed President Trump as a warmonger, racist, and xenophobe. The rapper also mocked the President's Twitter habits, called for gun control, and gave a shoutout to Colin Kaepernick. Finally, Eminem concluded "The Storm" with the following lyrics:
"Any fan of mine who's a supporter of his, I'm drawing in the sand a line — you're either for or against. And if you can't decide who you like more and you're split on who you should stand beside, I'll do it for you with this: f— you!"
Apparently, Eminem believed his rap video dissing President Trump would engender a response from the latter. However, this has not happened. During an interview with BET, the rapper made sure to express his frustration:
"I was and still am extremely angry; can't stand that motherf—er. I feel like he's not paying attention to me. I was kind of waiting for him to say something and for some reason, he didn't say anything."
America's Response to Eminem's Complaints
Eminem bemoaning the lack of attention he's receiving from President Trump prompted strong condemnation from many Americans. Trump supporters have been the loudest critics, slamming the rapper for seeking attention via inflammatory means.
Furthermore, people vocalized their disapproval with the content of the freestyle rap. Eminem stated the President wants to "get rid of all immigrants," however, this clashes with President Trump's insistence that he only wants to halt illegal immigration. Moreover, many Americans stated that Eminem's decision to flip off fans of his who may also support the President was unwise.
President Trump still has yet to respond to Eminem or "The Storm."