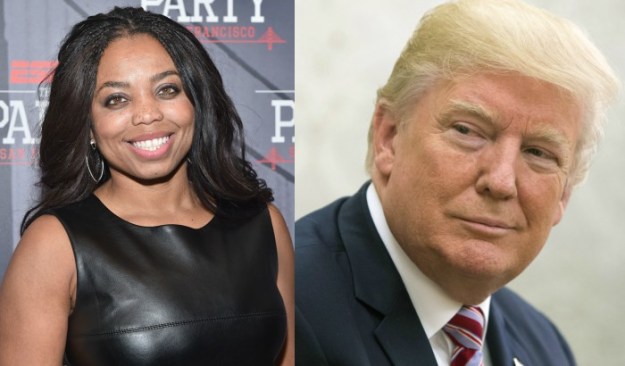 Mere hours ago, America learned of ESPN's decision to suspend Jemele Hill for exactly two weeks.
Why Was Jemele Hill Suspended?
According to CNN Money, Hill's "second violation of [ESPN's] social media guidelines" prompted her suspension. Yesterday, Hill posted the following on social media:
"Jerry Jones also has created a problem for his players, specifically the black ones. If they don't kneel, some will see them as sellouts."
"If you strongly reject what Jerry Jones said, the key is his advertisers. Don't place the burden squarely on the players."
"Just so we're clear: I'm not advocating a NFL boycott. But an unfair burden has been put on players in Dallas & Miami w/ anthem directives."
Hill's aforementioned comments engendered ESPN to release the following public statement:
"[Hill] previously acknowledged letting her colleagues and company down with an impulsive tweet. In the aftermath, all employees were reminded of how individual tweets may reflect negatively on ESPN and that such actions would have consequences. Hence this decision."
Hill's prior tweet where she slammed President Trump as "a white supremacist who has largely surrounded himself with other white supremacists" got her in some hot water last month.
Reactions from the American People
Various Americans have reacted differently to the suspension of Jemele Hill. Some believe it was justified, while others view it as abhorrent. A great deal of the divide is political.
Left-leaning Americans and critics of the President view Hill's suspension as unfair. Many of these people have taken to social media to censure ESPN. They've also asserted racism as the underlying cause of her suspension.
Conversely, many right-leaning Americans and supporters of President Trump feel very differently. They feel Hill's suspension was merited and long overdue. Conservatives have also made the case that politics have no place in sports.
The subject matter is currently a trending topic on Twitter.