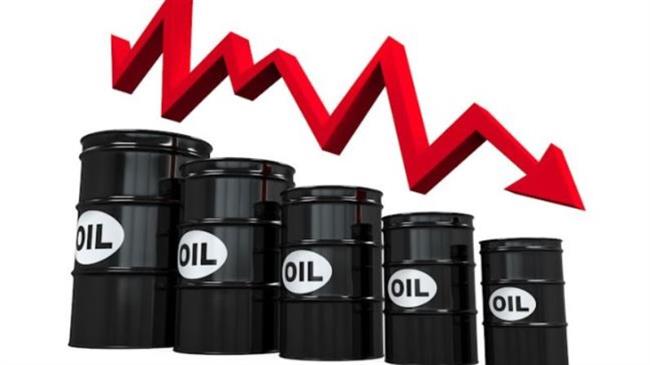 This week, West Texas Intermediate crude prices fell by 5% to a level of $45.72 per barrel before recovering to $46.07. The sharp fall of almost $2.50 in a day was prompted by an Energy Information Administration report regarding the level of US crude oil inventories. In the week that ended on June 2, crude stocks had increased by a massive 3.3 million barrels.
The recent decline in oil prices is part of a trend that has been fuelled by several factors.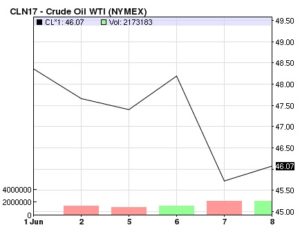 Source – Nasdaq
A booming shale industry
The US shale industry has been steadily increasing production levels. In 2017, its output is expected to be 9.2 million barrels per day, up 300,000 b/d from the previous year. Production levels are expected to rise by an additional 500,000 b/d in 2018.
Drilling activity has picked up sharply especially in areas such as the Permian Basin in Texas. The acting administrator of the Energy Information Administration, Howard Gruenspecht, points out that "… the total number of active rigs drilling for oil in the United States has more than doubled in the past 12 months."
Shale oil producers have been successful in cutting down their operating costs. They can now produce profitably even when oil prices are at sub-$50 levels.
Trouble in the Middle East… again
The middle of this week saw Iran's parliament and the mausoleum of Ayatollah Khomeini, the leader of the 1979 revolution, being attacked by Islamic State terrorists and suicide bombers. Twelve people were reportedly killed.
Soon after the attack, Iran's government indicated that the terrorists had the backing of Saudi Arabia without actually naming the country. Traditionally, the two nations have been rivals with both trying to dominate the region.
In another development in the Middle East, Saudi Arabia and several other countries have severed diplomatic ties with Qatar, accusing it of supporting the Muslim Brotherhood and ISIS.
Normally, whenever there is a crisis in the region, oil prices can be expected to rise. But this time around, the position is quite different. A falling-out between Saudi Arabia and Qatar and other OPEC members can actually lead to a fall in prices. This is because OPEC countries, in coordination with several non-OPEC oil exporters, have been trying very hard to cut production levels to shore up prices. Even Russia is a part of the effort to reduce oil output.
While these efforts have met with some success, the likelihood of a few OPEC members raising production levels beyond what they have agreed to cannot be ruled out.
Oil prices in 2018
David Martin, executive director at JPMorgan Chase, a leading US multinational banking and financial services company, expects oil prices to continue their downward trend. He estimates that West Texas Crude will be at an average of $42 in 2018.
The reason for falling prices? According to JPMorgan Chase, US production will keep rising and the arrangement by OPEC and non-OPEC producers to cut output will fall apart by the end of 2017.