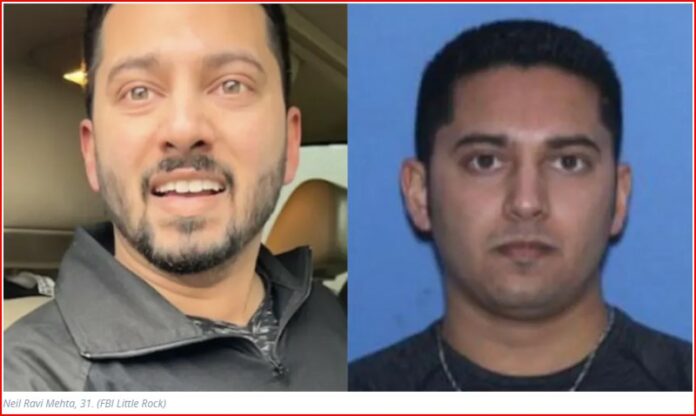 Federal agents are requesting help finding an Arkansas man, accused of possessing several bombs and illegal explosives. An FBI Manhunt began on Tuesday, January 31.
 Agents from the FBI and the Bureau of Alcohol, Tobacco, and Firearms (ATF) office in New Orleans are coordinating the multi-state search.
 FBI spokesman Connor Hagan in Little Rock said, "FBI Little Rock and ATF New Orleans are asking for the public's help to locate and arrest Neil Ravi Mehta for unlawful possession of an unregistered destructive device." 
According to a press release, FBI Little Rock and ATF New Orleans executed a federal search warrant at Neil Ravi Mehta's residence in Ft. Smith, Arkansas, where they found multiple explosive devices. 
During what Hagan describes as a court-appointed operation, the investigators were able to locate multiple explosive devices inside the residence.
"The explosives were rendered safe by federal agents, but Mehta remains at large," Hagan reported Friday.
Mehta was living in Fort Smith, Arkansas when the ATF and FBI raided his home. They found illegal explosives at his home at Carol Cross Park at S 74 and Free Ferry Road. He is currently being charged with an illegal explosive possession charge following Tuesday's raid at his home.
FBI Manhunt underway
Neil Ravi Mehta, 31, is 5 feet 11 inches tall and weighs 160 pounds. He has black hair and brown eyes.