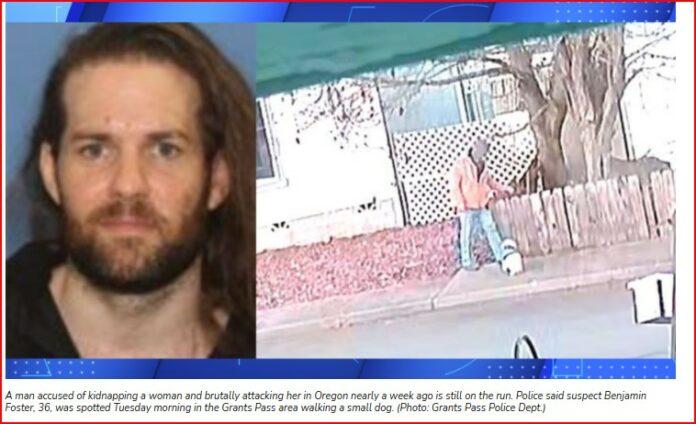 An Oregon fugitive was captured on Tuesday after a week on the run. Benjamin Obadiah Foster 36 is accused of torturing an Oregon woman. And he was previously convicted of torturing a Las Vegas woman.  
The victim, identified by her family as Justine Siemens, was transported to an area hospital. And she remains hospitalized on life support.
Her family issued a statement before Foster's capture. "She will survive this and as her family, we implore the nation to help bring her attacker to justice," it said.
The man who uses dating apps to find victims or people to help him evade police is now in custody following a manhunt, Oregon police said.
Foster had been hiding from police since January 24. 
UPDATE: Police said in a statement on Jan. 31 that Benjamin Foster, 36,  was in custody after a standoff in Grants Pass. Reports are that Foster died at a hospital later from a self-inflicted gunshot wound, according to Grants Pass police spokesperson Jeff Hattersley.
Foster returned to the scene of the crime
"After a several hours-long standoff, Benjamin Foster is in custody. A press conference will be held tomorrow with additional information," the Grants Pass Police Department said.