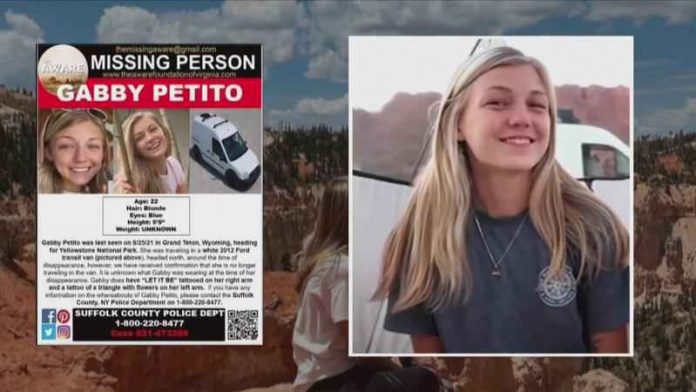 According to the FBI report Brian Laundrie,23, the boyfriend of Gabby Petito, left a notebook confessing to her murder. And then he committed suicide.
What started out as an adventure when Petito and Laundrie left New York in July. Had turned into a nightmare as the couple's dream to tour the western United States fell apart.
#Vanlife social media influencer Gabby Petito was reported missing by her family on September 11, 2021. And she vanished on a road trip in a converted campervan with Laundrie. 
The "engaged" couple were posting videos. And their trip was well-documented online until Gabby disappeared. Ironically it was YouTubers who captured images of her van that led to the discovery of her body a month later.
Petito was reported missing when her mother discovered that Brian Laundrie had returned in her van to his parents' home in North Port, FL. He had been home since September 1st. And 22-year-old Gabby Petito was not with him. 
The Tampa FBI said Friday that the "investigation will be closed in the near future."
Gabby Petito Family meets with FBI
The Gabby Petito family met with the FBI in Tampa for over 8 hours. And they said there was no doubt that Laundrie killed their daughter.
The evidence shows that Laundrie used Petito's credit card after her death. And he sent messages to her mother in an effort to convince her Gabby was still alive.
"The quality and quantity of the facts and information collected by the FBI leave no doubt that Brian Laundrie murdered Gabby," Richard Stafford the family's attorney said in a statement.
"Gabby's family would like to thank the Federal Bureau of Investigation, specifically the Wyoming, Denver, New York and Tampa offices, all of their task force members and their assisting agencies."
"Gabby's family would like to thank the FBI's Victim Services Department for all they have done for them. Victim Services has been there for support from the earliest stages of this investigation and helped their entire family navigate through the worst moments of their lives."
"We truly appreciate the FBI's diligent and painstaking efforts in this extremely complicated case. The quality and quantity of the facts and information collected by the FBI leave no doubt that Brian Laundrie murdered Gabby," from the statement.
FBI issues statement
The Denver FBI issued its final investigative update in the Petito case. And they claim no one but Brian Laundrie was directly involved in her death.
"All logical investigative steps have been concluded in this case," FBI Denver Division Special Agent in Charge Michael Schneider said.
 "The investigation did not identify any other individuals other than Brian Laundrie directly involved in the tragic death of Gabby Petito. The FBI's primary focus throughout the investigation was to bring justice to Gabby and her family. The public's role in helping us in this endeavor was invaluable as the investigation was covered in the media around the world."
"On behalf of the FBI, I want to express my deepest appreciation to the public for the thousands of tips that were provided during the investigation, and to our local, state and federal law enforcement partners for their work throughout the investigation," Schneider added. 
Gabby Petito murder long road for truth
Neither Brian nor his parents would ever respond to the Petito family or the police. They did not help in the search for Gabby. And they hired a lawyer to avoid communicating with authorities.
Laundrie, 23, disappeared around September 15th from North Port, FL. He was the only suspect in the disappearance of Gabby Petito. 
His body was found October 20 along with the confession notebook. For more than a month authorities searched a 24,000-acre Florida nature reserve. And it was confirmed in November Laundrie died of a self-inflicted gunshot wound to the head.
"A review of the notebook revealed written statements by Mr. Laundrie claiming responsibility for Ms. Petito's death," the FBI said in a statement.
Laundrie family issues statement
The Petito family had previously filed to get Gabby Petito's belongings. And they asked for items in the Laundrie family home and/or in FBI custody.
The parents of Brian Laundrie have been trying to reclaim items from the FBI. And one of these items is the confession notebook.
Steven Bertolino, attorney for the Laundrie family, issued a statement Friday. "Gabby and Brian are no longer with their families and this tragedy has caused enormous emotional pain and suffering to all who loved either or both of them," Bertolino said.
 "We can only hope that with today's closure of the case each family can begin to heal and move forward and find peace in and with the memories of their children. May Gabby and Brian both rest in peace."