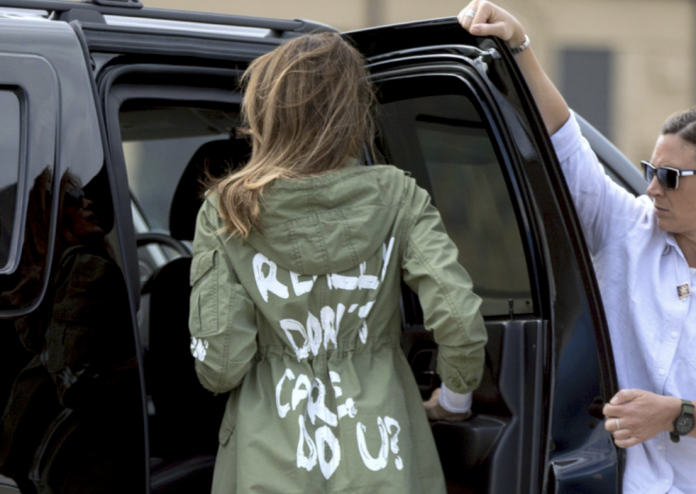 On Thursday, First Lady Melania Trump raised eyebrows when she wore a particular jacket on her trip to the Southern border, reports The Hill.
An Overview of the First Lady's Jacket
On Thursday, the First Lady decided to take a trip to the Southern border in Texas; her decision comes shortly after President Trump signed an executive order to halt the separation of illegal immigrants from their children when caught unlawfully crossing the border.
However, for many people, the First Lady's jacket served as a matter of greater interest than her trip to to the Southern border. Melania donned a green, Zara jacket which read "I REALLY DON'T CARE. DO U?"
Trump critics rushed to slam the jacket as tone deaf, seeing as the First Lady was going to visit the children of illegal immigrants who were currently separated from their parents. Conversely, Trump supporters stated that the First Lady's jacket served as a message to the media.
Interestingly enough, President Trump himself alluded to the aforementioned theory in a tweet about his wife's jacket:
"I REALLY DON'T CARE, DO U?" written on the back of Melania's jacket, refers to the Fake News Media. Melania has learned how dishonest they are, and she truly no longer cares!

— Donald J. Trump (@realDonaldTrump) June 21, 2018
Stephanie Grisham, a spokesperson for the First Lady, also censured the media's coverage of Melania Trump:
"If media would spend their time & energy on her actions & efforts to help kids — rather than speculate & focus on her wardrobe – we could get so much accomplished on behalf of children."
The First Lady, herself, has not publicly commented on her controversial jacket.
Additional Commentary Regarding the First Lady's Jacket
Melania Trump's jacket has seemingly reignited conversations about appropriate attire for first families.
Many critics noted past conservative criticisms of former First Lady Michelle Obama wearing a sleeveless black dress. Similarly, critics cited the condemnation of former President Obama's tan suit as a subject of right-wing condemnation. However, the current First Lady has faced considerable backlash from left-leaning media and individuals.
Finally, readers of The Hill weighed in with their thoughts regarding Melania's jacket:
"NO WAY that was an accident. Purposeful 100%."
"Modern day "Let them eat cake."