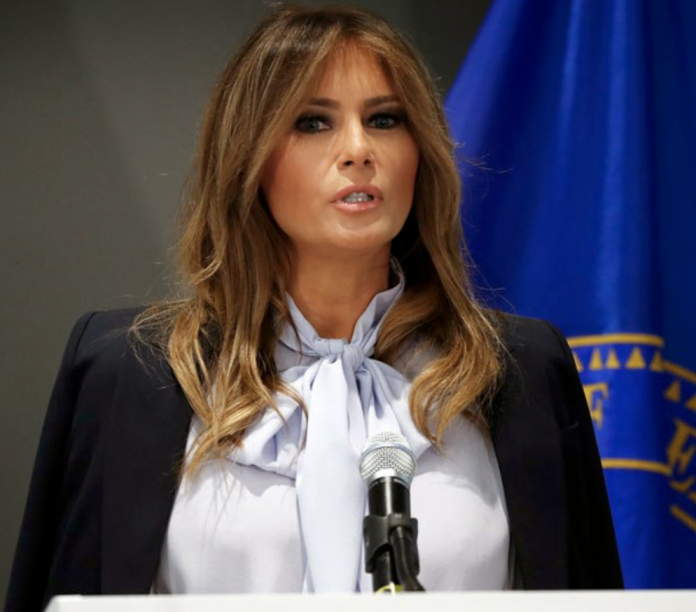 On Monday, The Hill reported that First Lady Melania Trump will visit Africa during a solo international trip.
An Overview of the Upcoming Solo International Trip
The first lady's solo tour will commence in October. Americans have not learned the specific dates. However, Trump did issue the following public statement:
"This will be my first time traveling to Africa and I am excited to educate myself on the issues facing children throughout the continent, while also learning about its rich culture and history. We are a global society. I believe it is through open dialogue and the exchanging of ideas that we have a real opportunity to learn from one another."
Development programs in Africa are what reportedly motivated the first lady to schedule a trip to the continent.
More on Melania Trump
On Monday morning, the first lady spoke at the Cyberbullying Prevention Summit in Rockland, Maryland. She cited social media as an "inevitable part of our children's daily lives." Trump continued, stating that although social media can be used positively, incorrect usage can be "destructive and harmful."
Shortly thereafter, the first lady provided further insight into her "Be Best" initiative.
"This is why Be Best chooses to focus on the importance of teaching our next generation how to conduct themselves safely and in a positive manner in an online setting," Trump said.
Trump launched her "Be Best" campaign in May. The initiative largely focuses on children and the issues they face here in the United States. During her White House Rose Garden remarks, the first lady discussed specific issues that her campaign will tackle.
"It concerns me that in today's fast-paced and ever-connected world, children can be less prepared to express and manage their emotions," Trump said. "[They] often turn to forms of destructive or addictive behaviors such as bullying, drug addiction or even suicide."
Trump has faced backlash from critics who wonder if she is the ideal spokesperson to combat cyberbullying. Her communications director, Stephanie Grisham, issued the following public statement in response to this criticism:
"She is aware of the criticism, but it will not deter her from doing what she feels is right. The president is proud of her commitment to children and encourages her in all that she does."