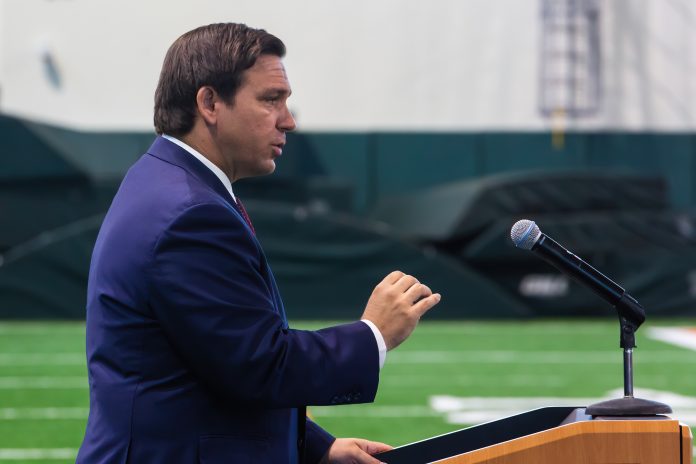 As many Americans are aware at this point, there are a lot of conversations and speculations surrounding the 2024 presidential election. With Biden in office making a mess of so many things, the country is widely eager for a new president.
Biden will be up for re-election in 2024. This will be the one and only chance to ensure that the president who left Americans stranded in Afghanistan and then called this a "success" does not win a second term.
There's a lot of talk about who could possibly run for the Oval Office in 2024. One name that continues to come up is Ron DeSantis, the Republican governor of Florida.
This week, during a press conference, DeSantis spoke publicly regarding speculation of him running for president in 2024.
The Florida governor on a potential presidential run
During a Tuesday press conference, DeSantis revealed that speculation about him seeking the White House in 2024 is "nonsense"; the Florida governor also pointed out that his focus is on doing his job for residents of the Sunshine State.
DeSantis specifically noted that right now, Florida is leading in a lot of arenas, prompting other states to imitate accordingly. This likely served as an indirect reference to Florida's lead in monoclonal antibody treatments designed to help people fight off COVID.
Finally, DeSantis noted that he isn't quite sure what to say about rumors surrounding him.
Support for a DeSantis 2024 run
At this time, there is support within the right-wing for DeSantis to make a presidential run. Over the past almost two years, DeSantis has gained fans and prominence due to his chosen method of going about handling COVID.
Furthermore, with DeSantis in charge of Florida, the state's economy is booming. Tourists continue flocking to the Sunshine State; meanwhile, individuals to the tune of thousands on a daily basis are choosing to move to Florida.
Many conservatives believe that having DeSantis' leadership at a federal level would be an asset to America. With that said, next year, DeSantis is up for re-election in Florida's gubernatorial election.
At this time, there is no confirmation that the Florida governor has any plans to run for the White House in 2024.