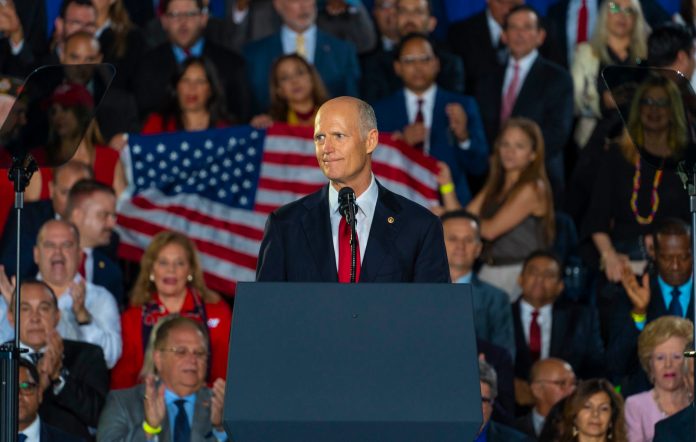 The 2022 midterm elections are exactly one year away. These elections could turn out to be some of the most monumental and historic races this nation has ever seen. If nothing else, they will certainly decide what path this nation takes during the second half of Biden's presidency.
Last week, Virginia Governor-elect Glenn Youngkin made history in the Republican Party. Youngkin broke Democrats' over one-decade-long streak of controlling Virginia's governorship.
Youngkin did this by focusing on the issues that impact voters in the state. Now, Florida Republican Sen. Rick Scott is advising Republicans in upcoming races on how they can win these elections.
A word of advice from Sen. Scott
While speaking with Meet the Press, the Republican senator made very clear that the Youngkin model of running for office is one GOP candidates must emulate going forward.
Scott (who previously served as Florida's governor before current Governor Ron DeSantis) stated centering campaigns on policy issues will allow Republicans to win.
The former Florida governor made it a point to note Republicans can still welcome endorsements from Trump; however, making Trump the center focus of elections is not going to be the way forward to victory for conservative candidates.
Scott additionally explained some of the issues Americans care about include high prices across the board, children's education, and jobs. The senator also noted that as Democrats focus on Trump (like Terry McAuliffe did when running against the current Virginia governor-elect), it will only help Republicans.
Getting the ball rolling
Many Republican leaders took to social media, reminding Americans the 365-day clock starts now. GOP candidates in the forthcoming midterm races have quite a bit going for them.
Meanwhile, the precise opposite is true for Democrats. The president of their party now has a 38% approval rating. Moreover, in battleground states that will determine the Senate majority, Biden's approval ratings are terrible.
Meanwhile, House Democrats are on the verge of losing their majority, due to redistricting and retirements. Furthermore, history shows the party in power during the off-season midterm years tends to lose Congress.
If Republican candidates follow Sen. Scott's advice and focus on relevant policy issues, nothing will stop a massive red wave.