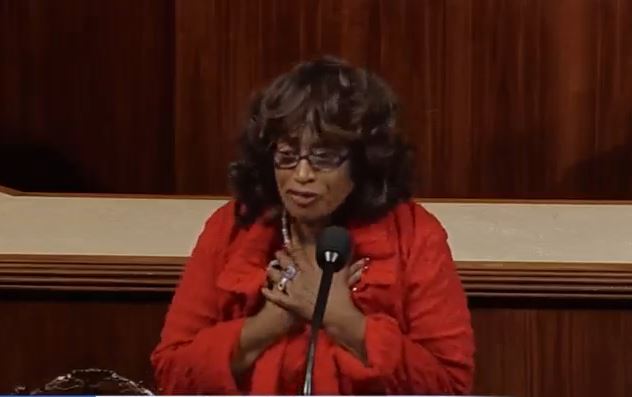 Former U.S. Representative Corrine Brown of Florida was sentenced to five years in prison for committing financial crimes. She also received three years of probation.
Brown's longtime aide Ronnie Simmons received a prison sentence of four years followed by three years of probation. The president of One Door for Education Carla Wiley got one year prison sentence followed by three years of probation. Both Simmons and Wiley pleaded guilty and testified against Brown.
In May, a jury convicted Brown on 18 counts of financial crimes including conspiracy, mail fraud, wire fraud, tax crimes, and hiding income.
During the trial, prosecutors argued that the three committed fraud by using One Door for Education. Between 2012 and 2016, they raised more than $800,000 for the charity's scholarship fund. However, they only gave out one scholarship for $1,200 to an unidentified person.
According to the prosecutors, Brown and Simmons used majority of the money for "personal and professional benefits. They took expensive trips, shopping excursions, and hosted lavish parties.
Brown abused her position to commit criminal conspiracy
During the sentencing on Monday, the federal judge believed Brown used her position to achieve an "admirable record of service."  However she also abused it to commit criminal conspiracy.
Brown served in the Congress for 24 years. She was one of the first three African-Americans from Florida to be elected to the Congress since Reconstruction.
According to U.S. District Judge Timothy Corrigan, "This is a sad day for everyone. I was impressed with all the outpouring of support for you. I think it's a tribute to all the work you've done over the years. That's what makes this all the more tragic."
Additionally, Judge Corrigan emphasized, "This was a crime born out of entitlement and greed committed to ensure a lifestyle that was beyond their means. Just think of the good that could have been done with that money if it would have been used for its intended purpose."
Judge Corrigan ordered Brown to report to prison no earlier than January 8. She remains free until that date.
Her lawyer said they will appeal the sentence. Under the Federal rules, a person must serve time while an appeal is pending. An appeal will not keep Brown behind bars.