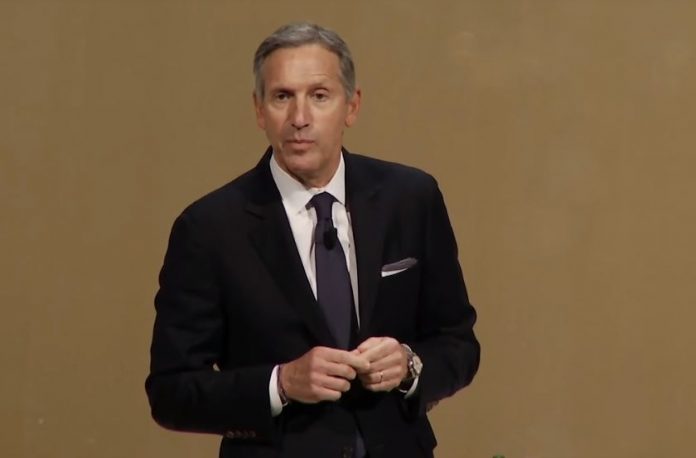 Howard Schultz, the former CEO of Starbucks announced that he will not run for president in 2020 after seriously considering the idea of an independent presidential bid.
In a letter on Friday, Shultz wrote that his "love for our country" and "profound love for people's well-being" were the main reasons for his decision earlier this year to consider running for president as an independent.
He explained, "My intention was to represent millions of Americans who want to see problem solving, accountability, compassion and decency in our federal government."
"Done watching our two parties fail, I chose to explore running as an independent, committed to finding common ground and delivering results. I saw a path in the unprecedented frustration of today's electorate," added Schultz.
However, he noted that a majority of Americans decided to tune out of political life despite their hunger for reform. Thus, the "extreme voices" are now dominating the debate about political reform.
Additionally, Schulz said, "Not enough people today are willing to consider backing an independent candidate because they fear doing so might lead to re-electing a uniquely dangerous incumbent president. There is considerable concern that four more years of a Trump administration pose a graver threat to our democracy than four more years of political dysfunction."
Schultz will continue his efforts to reform the two-party system
"My belief in the need to reform our two-party system has not wavered, but I have concluded that an independent campaign for the White House is not how I can best serve our country at this time," said the former Starbucks CEO.
Schultz had a back injury in April and underwent three subsequent surgeries, which required a level of recovery. The situation prevented to continue travelling and engaging with people regarding political reform and other important issues affecting the country.
Furthermore, he decided to "invest" the money that he allocated for a presidential campaign "to people, organizations and ideas that promote honesty, civility and results in our politics, and that move the country beyond two-party gridlock."
In January, President Donald Trump mocked Schultz. He tweeted that the former Starbucks CEO doesn't have the "guts" to run for president