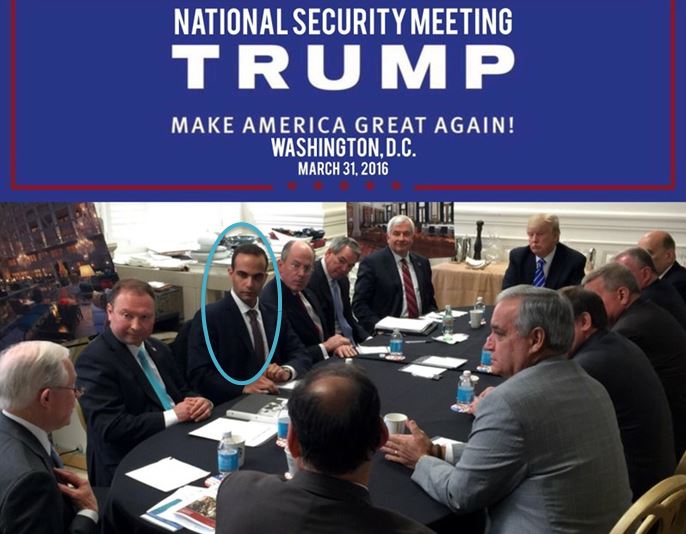 A former campaign adviser of President Donald Trump pleaded guilty to lying to Federal Bureau of Investigation (FBI) in connection with the Russia investigation.
The Justice Department office of Special Counsel Robert Mueller is investigating allegations of Russia's meddling in the 2016 presidential election. He is also looking into possible collusion between Russians and Trump campaign.
On Monday, an unsealed court filing stated that George Papadopolous, a former foreign policy adviser to Trump campaign, lied to FBI agents.
Papadopoulos admitted committing "material false statements and material omissions" during an FBI interview in January. He lied about contacts with an overseas professor connected with the Russian government and Ministry of Foreign Affairs representative.
Papadopoulos also lied about his meeting with a female Russian nation connected to Russian government officials.
According to the court filing, Papadopoulos' obstructed the FBI's ongoing investigation regarding Russian interference in the election. Authorities arrested him on July 27.  Since then, he decided to cooperate with the government's investigation and provided information and answered questions.
On October 5, Papadopolous entered a guilty plea agreement with the Department of Justice Office of Special Counsel. It was filed to the U.S. District Court for the District of Columbia.
During the plea agreement hearing that day, Aaron Zelinsky of the Special Counsel's Office said Papadopolous' case is a small part of a large scale ongoing investigation.
Former Trump campaign chairman Manafort indicted
Separately, Paul Manafort and Rick Gates surrendered to the Office of the Special Counsel. Manafort is a former chairman of the Trump campaign while Gates is a former aide.
Both men were charged with 12 counts related to money laundering and one count of conspiracy against the United States. They pleaded not guilty to the allegations of the Special Counsel's Office.
White House reaction
During a press briefing on Monday, White House Press Secretary Sarah Sanders said the indictments against Manafort and Gates had "nothing to do with the President." It has nothing to do with Trump's campaign of campaign activity.
When asked about Papadopolous' guilty plea, Sander said he served in an "extremely limited "volunteer position" on Trump's campaign.
On the other hand, Trump tweeted his reaction regarding the charges against Manafort. He said, "Sorry, but this is years ago, before Paul Manafort was part of the Trump campaign. But why aren't Crooked Hillary & the Dems the focus???? He also reiterated that there was "No COLLUSION" between his campaign and the Russians.
In the past, Trump called the Special Counsel's investigation a "witch hunt.