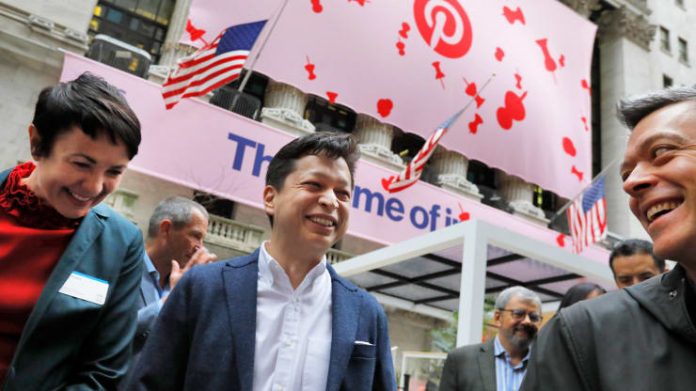 Edit: This article has been updated to include a statement from a Pinterest Spokesperson.
Pinterest's former COO Françoise Brougher filed a detailed gender discrimination lawsuit against the company on August 10th.
The high-profile tech executive started at Pinterest in March 2018 and was terminated "without cause" in April of 2020. She had previously been an executive at both Google and Square. She was known as a data-driven successful manager.
The lawsuit alleges Brougher was fired from Pinterest by CEO Ben Silberman who, "asked Ms. Brougher to cover up the company's decision to terminate her employment by telling her team that she had decided to leave the company. She declined to do so."
Brougher alleges she was fired after she had a contentious video call exchange with Pinterest's CFO, Todd Morgenfeld who yelled at her and hung up the phone. Her requests to human resources for support were largely ignored.
She also described Morgenfeld's history of disparaging comments about her in front of her team. 
Brougher claims that she was barred from important meetings and sometimes members of her team were invited without her knowledge. She was not invited to go on the corporate roadshow in 2019 which was a ramp-up to Pinterest's IPO.
She also discovered she was paid less than the male executives after the company filed IPO paperwork. When she complained, the company begrudgingly adjusted her compensation. She was then fired and subsequently asked to transition her job to Morgenfeld.
Brougher's suit comes in the wake of some very public reports that Pinterest has a toxic work environment. 
In May, Aerica Shimizu Banks and Ifeoma Ozoma, both black women, quit their jobs as leaders of Pinterest's public policy team. They claim their experience at Pinterest included "glaringly unfair pay, intense discrimination, and terrifying retaliation."
In June, CEO Ben Silberman apologized and promised to conduct a full investigation into the culture and policies of Pinterest.
In a statement to USA Herald, a Pinterest spokesperson said, "We remain committed to advancing our culture to ensure that Pinterest is a place where all of our employees feel included and supported, which is why there is an ongoing independent review regarding our culture, policies, and practices. We're reviewing the complaint filed. Our employees are incredibly important to us and we take all concerns brought to our attention seriously."
————————————————–
Have a story you want USA Herald to cover? Submit a tip here and if we think it's newsworthy, we'll follow up on it.
Want guaranteed coverage? We also offer contract journalism here.  Just be sure you're comfortable giving up editorial control, because our journalists are dogged and will follow the story through to it's conclusion. The story will be published to our exacting standards, without regard for your preferred slant.
Want to contribute a story? We also accept article submissions — check out our writer's guidelines here.