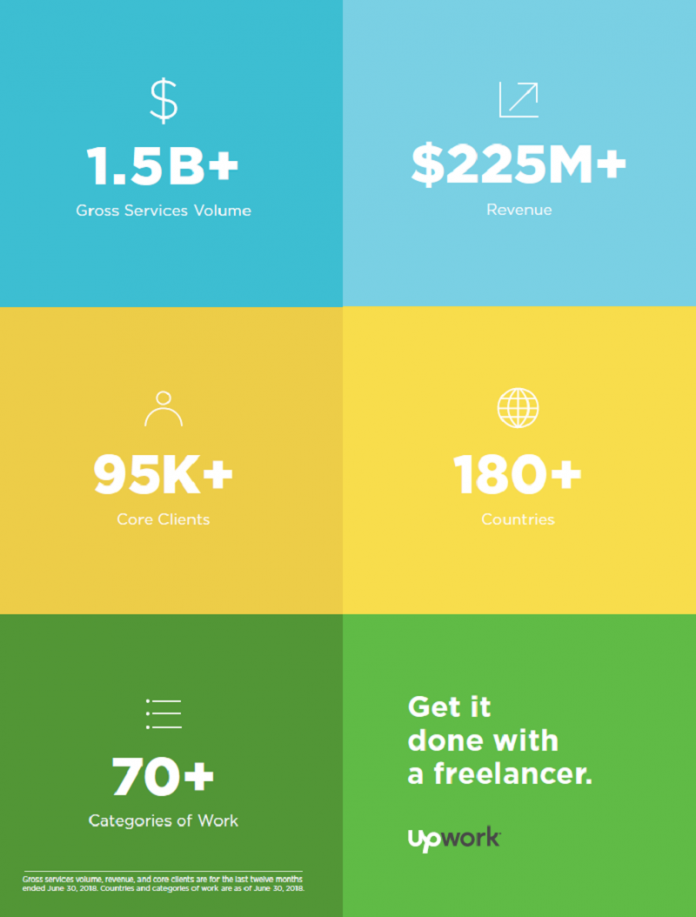 Upwork, the most popular freelance marketplace, will be offering 12.2 million shares in its initial public offering.
What is Upwork?
Upwork is an online marketplace where individuals and large companies hire freelance employees on a contract basis. It isn't simply a job board. All payments are processed via Upwork. It charges a percentage of each payment as the fee for using the site.
As the Upwork prospectus states, "Our platform provides clients with fast, secure, and efficient access to high-quality talent with over 5,000 skills across over 70 categories." These skills include "content marketing, customer service, data science and analytics, graphic design, mobile development, sales, and web development."
Also, the company keeps its platform fair for everyone by offering facilitating two types of guaranteed payment contracts. The first type of contract allows freelancers to track their hourly activity. The second is a fixed price contract that work by collecting payment from clients and holding it in Escrow until the freelancer completes a certain amount of work. In case of a dispute, Upwork works with both parties to resolve the issue.
Upwork's Performance
In 2016, Upwork processed $1.15 billion of payments. It increased that number to $1.37 billion in 2017. That change reflects a 20 percent growth rate.