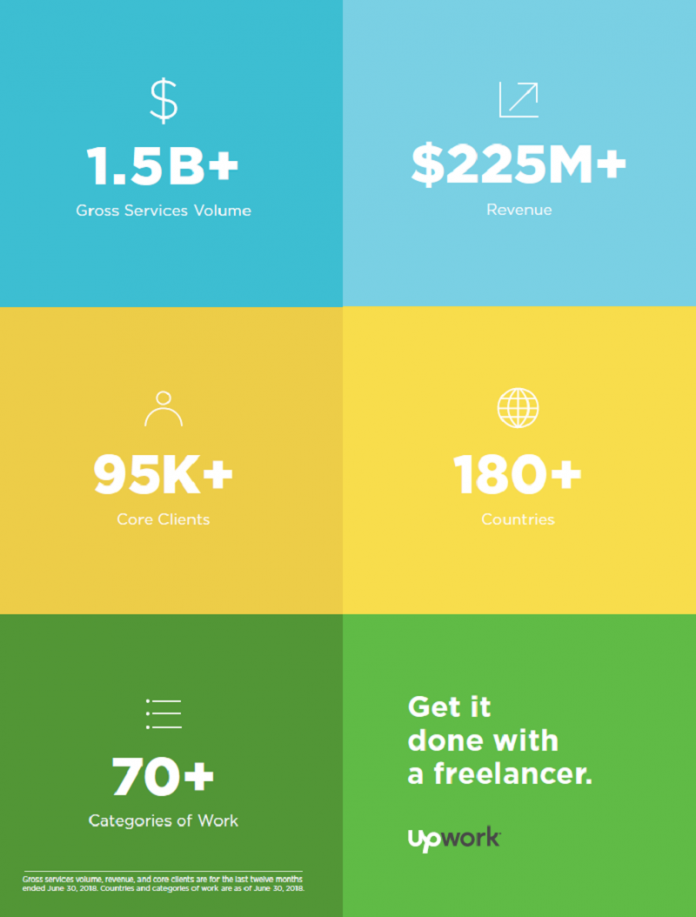 Upwork, the most popular freelance marketplace, will be offering 12.2 million shares in its initial public offering.
What is Upwork?
Upwork is an online marketplace where individuals and large companies hire freelance employees on a contract basis. It isn't simply a job board. All payments are processed via Upwork. It charges a percentage of each payment as the fee for using the site.
As the Upwork prospectus states, "Our platform provides clients with fast, secure, and efficient access to high-quality talent with over 5,000 skills across over 70 categories." These skills include "content marketing, customer service, data science and analytics, graphic design, mobile development, sales, and web development."
Also, the company keeps its platform fair for everyone by offering facilitating two types of guaranteed payment contracts. The first type of contract allows freelancers to track their hourly activity. The second is a fixed price contract that work by collecting payment from clients and holding it in Escrow until the freelancer completes a certain amount of work. In case of a dispute, Upwork works with both parties to resolve the issue.
Upwork's Performance
In 2016, Upwork processed $1.15 billion of payments. It increased that number to $1.37 billion in 2017. That change reflects a 20 percent growth rate.
Revenue for the site was $164.4 million in 2016. It grew to $202.6 million in 2017. The company processed 20 percent more payments, but earned 23 percent more in revenue.
In 2016, the company showed a net loss of $16.2 million. But in 2017, its loss was only $4.1 million. The reason for the losses? According to Upwork, "We have made significant investments to grow our business, including in sales and marketing, research and development, operations, and personnel."
And last fiscal year, Upwork processed $1.56 billion worth of payments. It served 375,000 freelancers and 475,000 clients. Its reach covered 180 countries.
Upwork states, "We believe that a key driver of our growth is our track record of creating trust and enabling freelancers and clients to successfully connect at scale on our platform. As the largest online global marketplace for highly-skilled freelancers as measured by GSV, we benefit from network effects that drive growth in both the number of clients posting jobs and the number of highly-skilled freelancers seeking work."
Outlook for the Company
McKinsey Global Institute estimates that by 2025, the freelance economy could generate $2.7 trillion. That figure translates to 2 percent of the U.S. economy.
Upwork and sites that try to emulate its success see the U.S. economy as being part of a new workplace revolution. The world economy, by and large, moved from manual labor to industrial production in the 18th and 19th centuries. But in the 20th century, the forefront of the economy moved from production to white collar offices. And while neither of these segments are going away, there is a new segment that isn't reserved only for artisans anymore.
Lawrence Katz and Alan Krueger are economists at Harvard University Princeton University, respectively. They say that 94% of the net job growth in the past ten years was in the category of alternative work. That includes temps, independent contractors, and freelancers. Freelancing is the fastest growing segment of the U.S. economy.
And whereas sites such as LinkedIn were the go-to site for professional networking, Upwork is now the much more popular location. It is the hub of all things employment related. Besides hiring for remote work, many companies that recruit on Upwork offer employment on a trial basis and then, hire their freelancer full-time in the traditional sense.
Benefits for Employers and Employees
The model of using work from home remote employees provides great benefits for employer and employee alike.
The freelancer has the freedom to work as much or as little as they like. They can be self-employed and treat the online marketplace as a full-time career or they can pick up some assignments here are there for extra income.
Likewise, Employers reduce their need for paying large offices and fringe benefits. Depending on the work, they don't even need to pay minimum wage. They can recruit anywhere in the world and pay what their applicants negotiate.
Buying and Trading Upwork Stock
Upwork expects the opening price for its shares to be $15, up from its original $10-12 range. Already, Dragoneer Investment Group, LLC has expressed an interest in buying $27 million worth of shares. Upwork will trade under the symbol UPWK. It does not expect to pay dividends to shareholders.
Disclaimer:   we intend to watch this stock closely today and many of us here plan to make an investment in it as we rely on Upwork on a daily basis for our business.   Initially the spike to $15 in the IPO caused me pause and I have chosen to not invest as much as I initially planned to at the $10-12 range.