The stock price of GameStop Corporation (NYSE: GME) is skyrocketing again as the battle between Reddit-charged day traders and short-sellers continues.
However, on Tuesday, GameStop's parabolic rise was driven by Chamath Palihapitiya, the CEO of Social Capital. The billionaire venture capitalist joined the speculative trading frenzy and betted that GME shares will trade higher.
In a tweet, Palihapitiya disclosed that he made call options that would allow him to purchase GameStop shares at $115 each in February.
Lots of $GME talk soooooo….

We bought Feb $115 calls on $GME this morning.

Let's gooooooo!!!!!!!! https://t.co/XhOKL1fgKN pic.twitter.com/rbcB3Igl15

— Chamath Palihapitiya (@chamath) January 26, 2021
The stock price of GameStop soared more than 45% to $112.03 per share at the time of this writing around 1:55 p.m. in New York. In fact, the stock reached as much as 124.50 per share today. Yesterday, GME shares rose as high as $159.18 each as Reddit charged day traders pile up on the stock, squeezing short-sellers.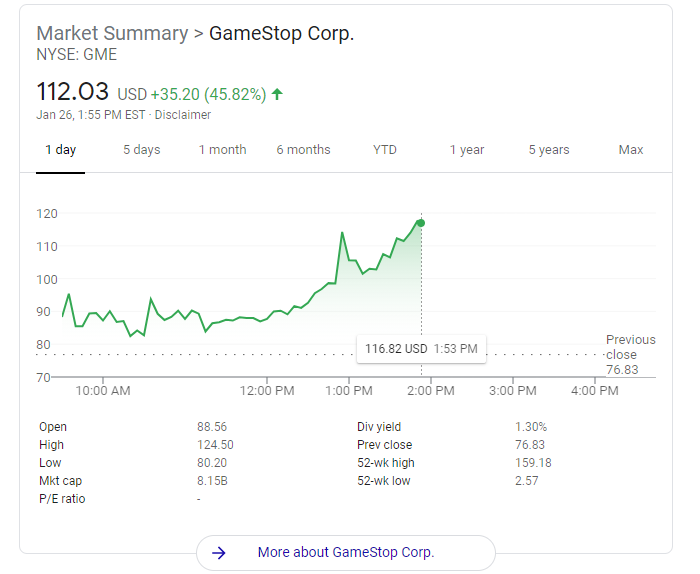 Last week, Citron Research Managing Director Andrew Left decided to steep away from shorting GameStop after suffering backlash from Reddit-charged day-traders. Mr. Left predicted that the video game retailer's stock price could crash "fast" to $20 per share.
Mr. Left decided that he will no longer comment on GameStop due o the reactions of "an angry mob" who are bullish on the stock. He said that he'd "never seen such an exchange of ideas of people so angry about someone joining the other side of a trade."
Mr. Left decided to "walk away" from his bet against the stock because he felt that the safety of his family has been compromised.
Short-sellers lost $6 billion on GameStop
According to data from financial analytics firm S3 Partners, short-sellers collectively lost more than $6 billion on their bets against GameStop year-to-date. On Monday alone, short-sellers' mark-to-market loss was $917 million.
Despite the massive short squeezes, many short-sellers are increasing their bearish positions on the video games retailer. The number of GameStop shares that have been borrowed and sold short surged by 1.4 million worth $91 million over the past 30 days, according to S3 Partners.
S3 partners Managing Director Ihor Dusaniwsky told Bloomberg, "We are seeing a short-squeeze on older shorts who have incurred massive mark-to-market losses on their positions but are seeing new shorts coming in and using any stock borrows that become available to initiate new short positions in hopes of an eventual pullback from this stratospheric stock price move."
The stock price of the video games retailer started to climb after announcing on January 11 that activist investor and Chewy CEO Ryan Cohen will join its Board of Directors.
Have a story you want USA Herald to cover? Submit a tip here and if we think it's newsworthy, we'll follow up on it.
Want to contribute a story? We also accept article submissions – check out our writer's guidelines here.