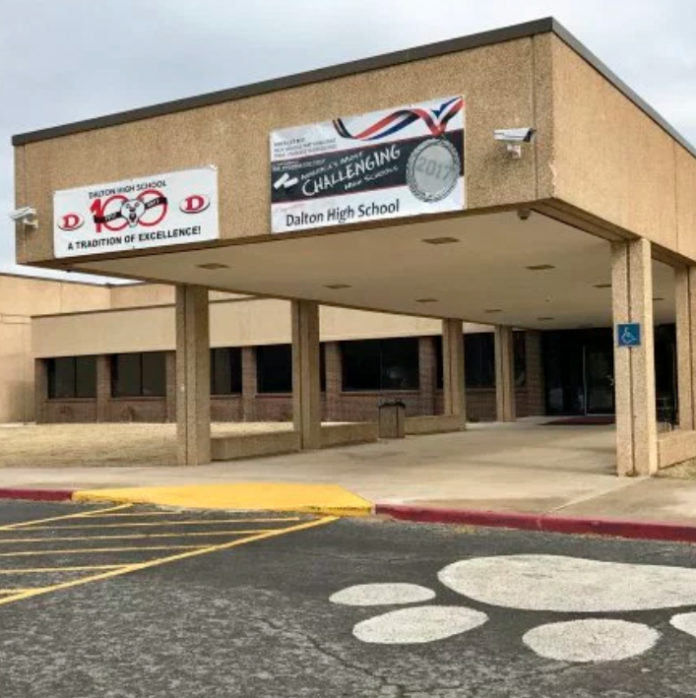 On Wednesday, Dalton police officers took a social studies teacher into custody after the latter fired shots in Georgia's Dalton High School, reports TIME.
An Overview of Shots Fired at Dalton High School
None of the Dalton High School students sustained injuries during from the foregoing shooting. Jesse Randal Davidson, the 53-year-old social studies teacher, fired a perceived "warning shot" after locking himself inside his classroom.
Following the shooting, the students and staff evacuated Dalton High School accordingly. Authorities also took Davidson into custody and are still working to find out what motivated him to open fire in the school.
Thankfully, the teacher did not harm anyone, although one student is said to have sprained her ankle in the commotion to exit the building. Nevertheless, students of Dalton High School have taken to Twitter to share their accounts of the aforementioned incident:
@nra my favorite teacher at Dalton high school just blockaded his door and proceeded to shoot. We had to run out The back of the school in the rain. Students were being trampled and screaming. I dare you to tell me arming teachers will make us safe.

— Chondi🌙 (@_omg_chondi_) February 28, 2018
I'm a Dalton High School student. Please don't tell me a damn thing about arming teachers. Please don't tell me that I don't know what the hell I'm talking about.

— hillary (@idkhillary) February 28, 2018
i'm a Dalton High School student. i've had multiple people tell me that we'd be safer if teachers were armed. if anyone else dares to say that to me i swear to god. multiple kids were just traumatized because of an armed teacher. stop being so insensitive.

— chloe (@ChloeMWells) February 28, 2018
The Debate on Whether or Not to Arm Teachers
The Dalton High School shooting comes exactly two weeks after 19-year-old Nikolas Cruz entered Parkland, Florida's Marjory Stoneman Douglas High School and opened fire. Unlike Davidson, Cruz's actions did take lives and he, too, remains in police custody.
After the latest Florida school shooting, questions about whether or not arming teachers would prevent additional tragedies surfaced. President Trump himself publicly endorsed the idea during his CPAC speech.
However, in light of today's occurrence, many people are rethinking the notion of arming teachers.
Dalton High School has approximately 2,000 students and resides 90 miles away from Atlanta, Georgia. Following Wednesday's high school shooting, students received transportation to the Northwest Georgia Center.
The Hill also covered the shooting at Dalton High School. Many of their readers weighed in with thoughts regarding arming teachers following Davidson's decision to open fire:
"Teachers with guns sound like an amazing idea, said no one ever."
"Imagine if the teacher decided to start killing students. There would be no one to stop him."
"There is a barricaded subject in a classroom. It is believed to be a teacher.
======== Holy scheit….that was fast!!! There goes the "arm teachers" BS narrative!"
"Maybe they should arm students to prevent teachers shooting schools[.]"