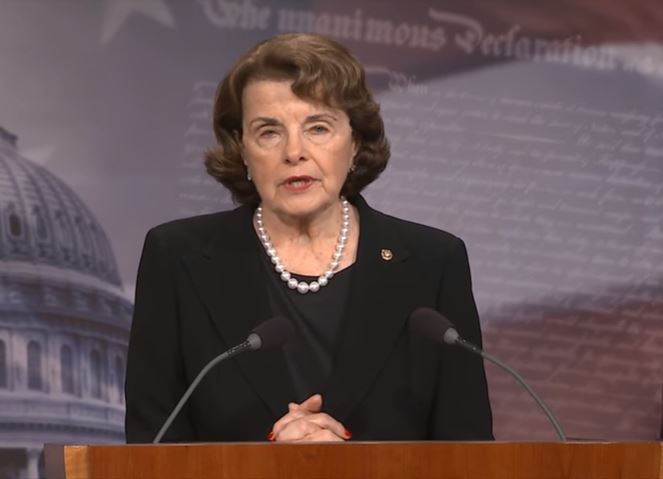 U.S. Senator Dianne Feinstein has a  new super PAC (political action committee). Her  longtime supporters created the group to help ensure her victory in the 2018 election.
The new super PAC called "Delivering for California" will focus on reminding Californians about Feinstein's work in Washington over the past 25 years. Feinstein championed legislation to preserve the Mojave Desert, Lake Tahoe, and California's forests. She passed bills that protect America's seaports from terrorism and organized crimes, criminalize border tunnels, and ban the manufacture and sale of 19 types of assault weapons from 1994 to 2004.
She also authored legislation that created the National AMBER Alert Network and prohibited rogue internet pharmacies from selling drugs without prescriptions. The senator also succeeded in passing a bill that help California survive from severe drought.
Currently, Feinstein is continuing her advocacy to prevent gun violence, protect civil rights immigrant communities, affordable healthcare, and many other issues important to Americans.
On Wednesday, Phil Angelides, the former chairman of the California Democratic Party said, "I want Dianne Feinstein in the crucible. I can't think of anyone who is better equipped for these extraordinary times."
Bill Chandler, the senator's former state director and spokesman, will lead the new super PAC. Their goal is to raise funds for political advertisements and other media campaigns. In addition, the group wants to help explain why it is "important to keep Feinstein in Washington, D.C."
He said, "This is a group that's come together over the last couple of weeks…We're excited to help ensure the senator return to Washington. We're not going to take anything for granted."
Feinstein failed to clinch Democratic Party's endorsement
State Sen. Kevin de Léon is challenging Feinstein. During the Democratic Party's convention this week, he criticized her as "out of touch." Both candidates failed to secure the party's endorsement.
Feinstein's campaign team remains confident since the veteran senator has a huge war chest. Her longtime political strategist, Bill Carrick, said, "I think we're in good shape. Nothing changed in the fundamentals."
As of December 31, Feinstein's campaign committee and leadership PAC raised more than $13, 954,447 million. Currently, her campaign has $9,823,913 cash on hand, according to data from OpenSecrets.org.
Carrick said, "We think the financial advantage we have over him will allow us to communicate in a much more substantial way than he will be able to with voters."
Feinstein is still leading the polls. Her fellow Democratic leaders including House Minority Leader Nancy Pelosi are endorsing her.