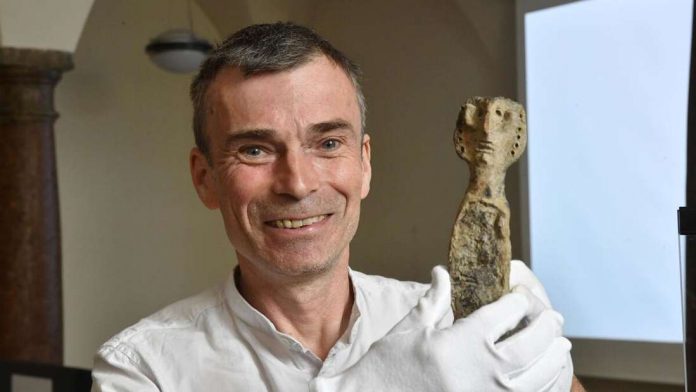 Researchers discovered the statue of the water goddess in Bavaria. It has identifiers of the ancient Hallstatt culture. They believe it was used during ancient rituals associated with water. And is estimated to be over 3,000 years old.  
Archaeologists found the unique baked clay figure near Schweinfurt in Mönchstockheim Germany during the excavation of the highway bypass.
The statue can be dated to between the 6th and 12th century B.C., during a transition period between the Bronze and Iron Ages across Central Europe, France, and the Balkans.
During the 6th century B.C., the area was agricultural with metalworking making advances. By the end of the period, long-distance trade with Mediterranean cultures was shifting the economy.
Water Goddess came from ancient times
According to Clemens Köhler, restorer at the Bavarian State Office for the Preservation of Monuments the clay figurine lay for thousands of years. It was discovered in a canal that had dried up a long time ago.
Before construction on the Mönchstockheim bypass on state road 2275, an excavation was done. Along with the clay figurine, archaeologists recovered "numerous fragments, ceramic tools made of bones, and a well-preserved clay seal" from the prehistoric canal on the site. 
Clay seals found at this location display extraordinary well-preserved patterns.
Due to the figurines' arched inward surface, experts at the State Office believe that organic materials, such as bread dough, were decorated with the figurine. 
"So much attention," Köhler says, holding in his gloved hand the 19 centimeters (7 inches) tall statuette that still poses many mysteries for the archaeologists. "The condition is excellent. I'm really intimidated."
"The figure is intact," he added. This means it is preserved in one piece.
Stefanie Berg, head of the Bavarian State Office for Monument Protection, says that there is no surface on the upper body and partially present legs. So, the researchers determined gender by the holes surrounding the head.
Women of that age often wore headdresses. And the hood decorated with metal rings interspersed with holes appears to be missing its headdress.
Limestone precipitation near the site indicates the area of the finds was probably a pond or spring in the past. And none of the ceramic finds were "water rounded" so it is most likely they were intentionally placed in the ditch.
Curator General Prof. Mathias Pfeil, believes "It is possible that people at that time regarded this special scenic spot as a sacred place and that the small statuette served as a ritual offering or even had magical powers."
"We call her the water goddess," he adds.