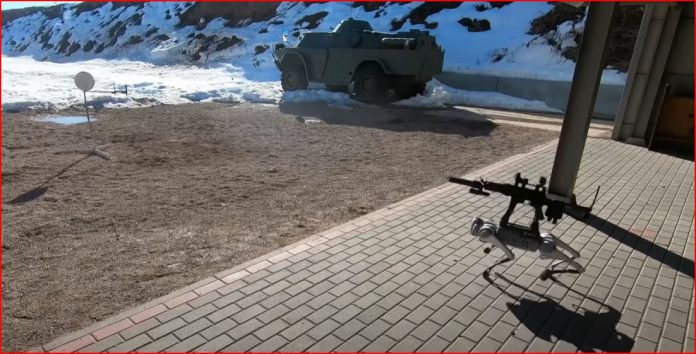 The Russians have a video of a machine-gun-toting robot dog that is taking Twitter by storm. The top half of the quadruped robot body has been modified. And its sophisticated design resembles something out of science-fiction or even the horror genre.
The silver-colored canine-shaped robot looks similar to one developed by the US company Boston Dynamics. But according to Cybernews, this is a modified version of a model sold at the Hangzhou-based Chinese company, Unitree Robots.
It is the GO1 or Jueying robot dog that climbs stairs and can carry 20 kilograms (44.09 pounds) of weight. And retails for $3,000.
The dangerous robot dog is seen running along a firing range through the snow. Then it aims and opens fire on various targets. And the viral video has had over 7.3 million views on Twitter.
Machine-gun-toting robot dog for good or evil
The gunfire sounds are a sharp contrast, which echo into some sort of drumming sound played with the video.
 Boston Dynamic's version of a 5-feet-tall, 190-pound "humanoid robot" named Atlas was released on video on July 17th. It was running and leaping over obstacles. A smaller version of BD's robot dog has been deployed by the NY police department since 2020.
It's not surprising that netizens are connecting the machine gun toting robot dog to the U.S. company's designs.
The Twitter post by @sonicmega, also references the "Funny Dancing Robot Dogs" made by Boston Dynamics.
A user claimed that the robot must be fake. But then the original post was found on YouTube. In March a Russian businessman, Alexander Atamanov, showed the original video.
It appears to have been taken in Russian territory. On the left of the screen is the Russian flag. And on the right is the insignia of the Russian Special Operations Forces, a wolf's head.
There is also a parked armored vehicle with identification marks BRDM-2 seen in the video. The unusual triangular door with the same lettering has been recently spotted on military vehicles in Russian occupied Ukraine.