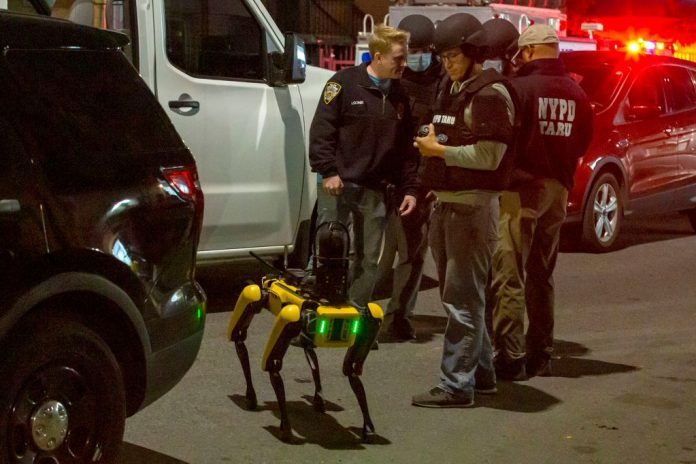 The New York Police Department's robo-dog is being tested throughout the city. The robot was designed and manufactured by Boston Dynamics. And the base unit before additions has a sticker price of  $74,000. The model was christened with the name "Spot." 
Since October 2020, the NYPD has deployed a robotic dog to several crime scenes and hostage situations. The NYPD calls the four-legged robo-dog "Digidog" or "WiFido." 
Digidog weighs 70lbs. It can run 3 miles per hour and climb up-and-down stairs. It is equipped with lights, cameras, two-way communications, and wifi.  
NYPD's Technical Assistance Response Unit (TARU) says that the dog is their eyes and ears in an emergency.  The unit can "see" its surroundings in real-time.  
"This robot is able to use its artificial intelligence to navigate things, very complex environments," TARU's Deepu John added.
Earlier this week there was a sighting of a robo-dog at a Manhattan public housing complex. A video appeared on Twitter showing the robot leading two NYPD officers to a building. And then the robot was slowly moving down some stairs as onlookers watch.  "I've never seen nothing like this before in my life," one of the bystanders can be heard saying.
Robot dogs at @NYCHA? Completely and utterly bizarre. Elected officials are also talking about drones 'overseeing construction' which is ahem…surveillance of POC. Are there any controls/enforcement to these mechanisms? You already know the answer to that one… #scaryrobotdogs https://t.co/pBwIwcQBYD

— Marni Halasa (@Marni4Council) April 15, 2021
Some Fear, Some Embrace Robo-dog
Digidog is creating some issues wherever it goes. The advocacy group Surveillance Technology Oversight Project (STOP) is concerned about constant surveillance and privacy issues.
 STOP founder Albert Fox Cahn says that "The NYPD is turning New Yorkers into surveillance guinea pigs. We keep hearing the same rhetoric from Mayor de Blasio that he believes in community-based policing, but I don't see any community that's calling for these creepy robots."
The NYPD's  robot dog units were also the subject of legislation introduced by City Councilmember Ben Kallos that proposes a ban on the NYPD using "weaponized robots."
Kallos says that the bot is one more step towards increasing police militarization and weaponized technology. And he talks about the 2016 use of a bomb-carrying mobile robot unit by the Dallas, Texas police. The event marks the first time U.S. police used a robot or a bomb to kill a suspect.
The robot was deployed after a sniper shot 12 police officers, leaving 5 dead. After a  five-hour standoff, with shots still being fired, Police Chief David Brown made the unprecedented decision. 
Shades of a Black Mirror Episode?
In a 2019 episode of the science fiction TV show "Black Mirror," humans are in a fight-to-the-finish with a robotic dog that looks suspiciously like Boston Dynamics "Spot." The episode name is "Metalhead." And it portrays many of the worst-case scenarios that Cahn and Councilman Kallos describe. 
There are also many policing experts that support the NYPD robo-dog and AI technology. 
Then Dallas Police Chief said in a 2016 press conference that "We saw no other option but to use our bomb robot and place a device on its extension for it to detonate where the suspect was….other options would have exposed our officers to grave danger. And the suspect is deceased as a result of detonating the bomb."
NYPD TARU Inspector Frank Digiacomo says that "This dog is going to save lives, protect people, and protect officers and that's our goal." 
—————————————- 
Have a story you want USA Herald to cover? Submit a tip here and if we think it's newsworthy, we'll follow up on it. 
Want to contribute a story? We also accept article submissions — check out our writer's guidelines here.