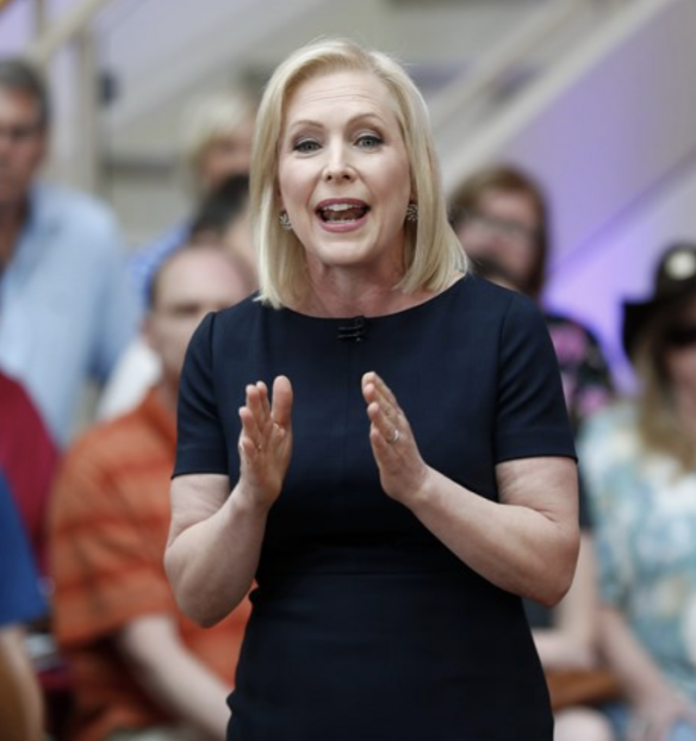 Over the course of the 2020 presidential election, Kirsten Gillibrand has struggled. The Gillibrand campaign still remains in the single-digit margin in the polls and has yet to gain momentum which rivals the campaigns of Warren, Sanders, or even Harris. In between the various primary debates, Gillibrand put out various ads, asking Americans to chip in to "get [her] to the debates."
Earlier today, Gillibrand appeared on air for an interview with ABC This Week. During her remarks, Gillibrand questioned the notion of a robust economy under the Trump administration. According to Gillibrand, the economy is not doing very well for working families in America.
Gillibrand on the Economy Under President Trump
Prior to Gillibrand's interview, White House trade adviser Peter Navarro also appeared on air. Navarro lauded the "rosy economic outlook" which has ensued since Trump's time in office; later, Gillibrand faced questions about her perception of the economy. The 2020 hopeful denounced Navarro's assertions, claiming that they don't represent the experiences of Americans across the country.
In Gillibrand's own words:
"I don't think his world view is reflected in the everyday, kitchen-table issues that families are facing. [Ohio voters] are worried about their jobs, they're worried about access to health care. They're worried about providing for their kids."
While this president serves no one but his own ego and political agenda, our New Hampshire staff and volunteers are committing themselves to a weekend of public service to help their local communities. Love our team. https://t.co/NNma63LZZG

— Kirsten Gillibrand (@SenGillibrand) August 16, 2019
Gillibrand then censured President Trump on trade, opining that his policies will harm jobs for American workers:
"I think it was a giveaway to drug companies in Mexico. It's going to harm our jobs. President Trump said no bad trade deals. Not only has he entered into them but he's started a trade war with China and it's really harming producers."
More on the Gillibrand 2020 Campaign
Since Gillibrand's time as a presidential candidate, she has frequently criticized Trump and his voters. During the second primary debate, Gillibrand stated that she wants to speak with white women who voted for Trump. Throughout her campaign, Gillibrand has alleged that white privilege exists; she furthermore maintains that race impacts the treatment Americans experience.
Critics of Gillibrand frequently brand her remarks as divisive. Others have questioned whether or not Gillibrand and other low-polling candidates will successfully make it to the third debate stage. At this time, Gillibrand has yet to establish herself as a formidable candidate with a viable shot of winning the Democrat nomination.
Overall, the leading candidates in the 2020 race are Joe Biden, Elizabeth Warren, and Bernie Sanders. As of now, opposing abortion bans is something which Gillibrand continues to speak out on.