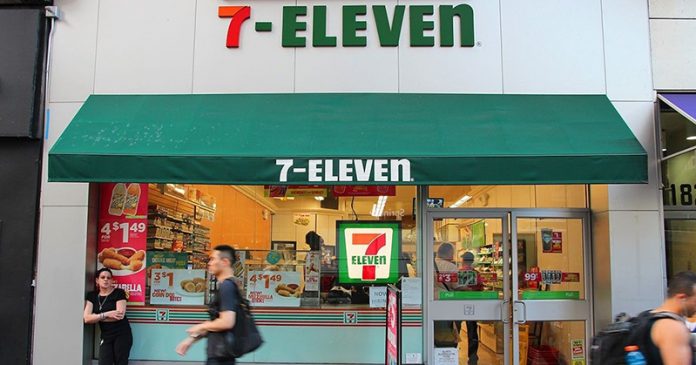 The gloves are off in the battle over illegal immigration, as officials have raided one of the nation's largest convivence stores.
Immigration and Customs Enforcement agents descended on dozens of 7-Eleven stores in the pre-dawn hours on Wednesday, opening employment audits and conducting interviews with workers, the Associated Press reported.
Agents targeted about 100 stores nationwide, broadening an investigation that began with a 4-year-old case against a franchisee on New York's Long Island. The audits could lead to criminal charges or fines over the stores' hiring practices.

The action appears to open a new front in Trump's sharp expansion of immigration enforcement, which has already brought a 40 percent increase in deportation arrests and plans to spend billions of dollars on a border wall with Mexico. Hardliners have been pressing for a tougher stance on employers.
And the move will not be the only such operation, U.S. Immigration and Customs Enforcement official Derek Benner told the AP, calling the raid the first of many" and "a harbinger of what's to come."
"This is what we're gearing up for this year and what you're going to see more and more of is these large-scale compliance inspections, just for starters. From there, we will look at whether these cases warrant an administrative posture or criminal investigation," he said.
"It's not going to be limited to large companies or any particular industry, big medium and small," Benner added. "It's going to be inclusive of everything that we see out there."
The agents arrested 21 people suspected of being illegal aliens in the Wednesday raids, but the operation was more directed at management.
"We need to make sure that employers are on notice that we are going to come out and ensure that they're being compliant," Benner told the AP. "For those that don't, we're going to take some very aggressive steps in terms of criminal investigations to make sure that we address them and hold them accountable."
And employers could be in major hot water, according to the report.
Wednesday's operation resulted from a 2013 investigation that resulted in charges against nine 7-Eleven franchisees and managers in New York and Virginia. Eight have pleaded guilty and were ordered to pay more than $2.6 million in back wages, and the ninth was arrested in November.

In the 2013 investigations, managers used more than 25 stolen identities to employ at least 115 people in the country illegally, knowing they could pay below minimum wage, according to court documents. The documents say 7-Eleven corporate office does automated payroll, requiring franchisees provide employee names and Social Security numbers to pay workers through direct deposit or check.

The 7-Eleven stores served on Wednesday will be required to produce documents showing they required work authorization, which Benner said will become more common. Audits may lead to criminal charges or administrative penalties.

In Los Angeles' Koreatown, seven agents arriving in three unmarked cars closed a store for 20 minutes to explain the audit to the only employee there, a clerk with a valid green card. Agents, wearing blue jackets marked ICE, told arriving customers that the store was closed briefly for a federal inspection. A driver delivering cases of beer was told to wait in the parking lot.

The manager was in Bangladesh and the owner, reached by phone, told the clerk to accept whatever documents were served. Agents said they would return Tuesday for employment records they requested.
"Just as the IRS performs audits of people all the time of their tax returns, the same purpose here is to ensure a culture of compliance in this area," Benner said.