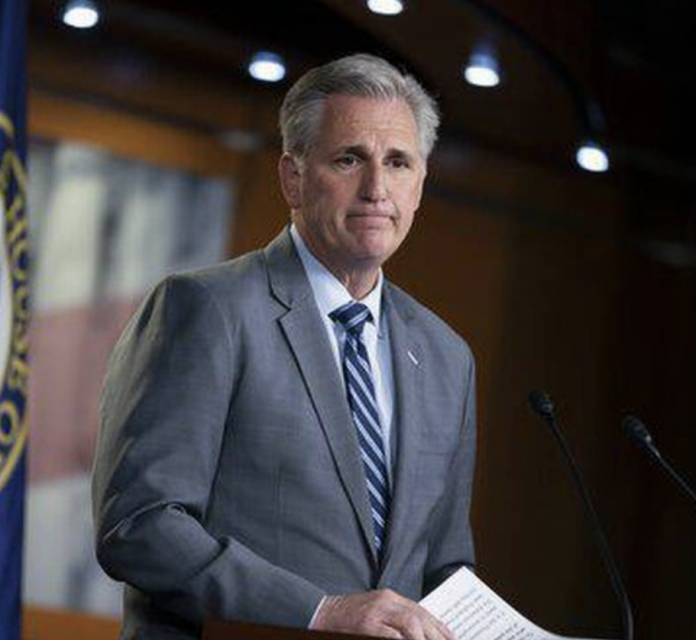 Significant factions of the political left are actively calling to defund the police. These calls maintain in spite of how much law enforcement contributes to society as we know it. Without police officers, many individuals would face unspeakable suffering and loss of life.
Individuals who favor defunding the police have a very dark outlook on law enforcement. Black Lives Matter and other groups maintain that police officers are "systemically" racist; the narrative also asserts that law enforcement members terrorize people of color at high rates. Of course, the data regarding policing in the United States does not back the aforementioned narrative.
Earlier today, House Minority Leader Kevin McCarthy participated in an interview with Fox & Friends. During this time, the Republican leader weighed in with his thoughts about the defund the police movement. In doing so, McCarthy also let Americans know why he doesn't believe Democrats collectively view this movement as too radical.
Leader McCarthy on Calls to Defund the Police
During his talks with Fox & Friends, the California Republican noted Democrats' pattern of embracing radical policies; this embrace has often followed after previous left-wing denouncements of certain things going too far.
As such, McCarthy explained that the same principle applies to current calls to defund the police. In the GOP leader's own words, Democrats tend to claim that certain practices are too much only to later "surrender to the socialists." Some examples of past, relevant instances include Medicare-for-All and the impeachment of President Trump.
When addressing the movement to defund the police, McCarthy offered an alternative solution. Citing "more training," as a good goal, the House Minority Leader noted that 99% of police officers protect and serve with honor. He then stated that removing the 1% of "bad apples" is a more constructive solution than merely defunding the police.
In McCarthy's own words:
"What about those one percent of bad apples? We've got to be able to remove those individuals. It's normally not the first time when we see it. If we have better performance, better transparency, and better accountability, we will have a much better solution to this problem."
Over the course of this week alone, some top Democrats including Joe Biden and Bernie Sanders have come out against defunding the police. Only time will tell if their positions shift on this issue.