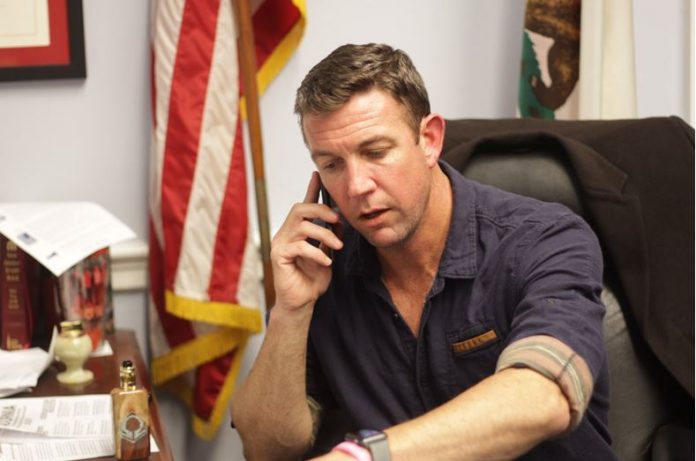 Federal prosecutors indicted Republican U.S. Rep. Duncan Hunter and his wife, Margaret, on Tuesday for allegedly falsifying campaign records submitted to the Federal Election Commission (FEC).
Duncan represents the 50th District of California in the U.S. House of Representatives.
According to the Department of Justice, the lawmaker and his wife illegally spent over $250,000 in campaign money for personal expenses between 2009 and 2016.
Some of their alleged illegal expenses included family vacations to Italy, Hawaii, Arizona and Idaho. They also spent campaign funds for school tuition, dental work, theater tickets, and domestic and international travel for relatives.
Additionally, the DOJ says the Hunters spent tens of thousands of dollars on coffee, fast food, groceries, golf outings and home utilities.
In the FEC filings, the GOP lawmaker concealed those personal purchases as "campaign travel, dinner with volunteers/contributors, gift cards for charitable donations" and other false descriptions.
The Hunters are facing several charges including conspiracy to commit offenses against the United States, wire fraud, falsification of records and prohibited use of campaign contributions.
U.S. Attorney: Hunter and His Wife Repeatedly Misused Campaign Funds
In a statement, U.S. Attorney Adam Braverman commented, "The indictment alleges that Congressman Hunter and his wife repeatedly dipped into campaign coffers as if they were personal bank accounts, and falsified FEC campaign finance reports to cover their tracks."
In addition, Braverman said, "Elected representatives should jealously guard the public's trust, not abuse their positions for personal gain. Today's indictment is a reminder that no one is above the law."
Speaker Ryan Removes Hunter from Committee Assignments
On Tuesday, House Speaker Paul Ryan stripped Hunter of committee assignments due to the allegations against him.
"The charges against Rep. Hunter are deeply serious," Ryan said in a statement. "The Ethics Committee deferred its investigation at the request of the Justice Department. Now that he has been indicted, Rep. Hunter will be removed from his committee assignments pending the resolution of this matter."