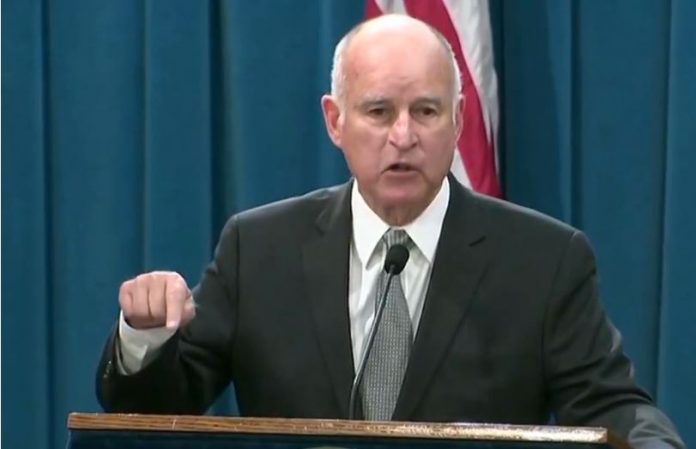 California Governor Jerry Brown invited President Donald Trump to visit the state's ongoing bullet train construction projects.
On Tuesday, Pres. Trump is going to San Diego to inspect eight border-wall prototypes. The President will also deliver a speech at the Marine Corps Air Station Miramar. He is also scheduled to attend a Republican fundraiser at Beverly Hills.
In his invitation letter, the governor asked the President to visit the Central Valley after examining the wall prototypes. He said, "You see, in California we are focusing in bridges, not walls. And that's more than a figure of speech."
Gov. Brown told Pres. Trump that the state is building more than a dozen bridges and viaducts for the first high-speed rail line in the country. He emphasized that California is "already putting 1,700 Americans to work."
The governor noted that the President lamented that the United States doesn't have a fast train. He wrote, "Well, Mr. President, in California we are trying to fix that. We have a world-class train system under construction."
Gov. Brown says California's prosperity is not built on isolation
Additionally, Gov. Brown said previous Presidents including George W. Bush, Harry Truman, and Lyndon Johnson recognized the importance of California.
According to him, when Bush first visited that state, he said, "For decades, California has been the place where the future happens first. Your continuing success is essential to the success of our national economy."
Gov. Brown emphasized that Bush's observation back then is still true today. He touted that California's economy is currently the sixth largest in the world. Since its recovery, the state added almost three million jobs.
Furthermore, the governor said the state's "prosperity is not built on isolation…California thrives because we welcome immigrants and innovators from across the globe."
The California Governor has been one of the strongest critics of the Trump administration. Last week, he slammed U.S. Attorney General Jeff Sessions for suing California over its sanctuary policies.
Gov. Brown considered the move as a "political stunt" by Sessions. He said the Attorney General "has no regard for the truth." The lawsuit means "basically going to war with the state of California, the engine of the American economy."  He added, "It's not wise, it's not right and it will not stand."