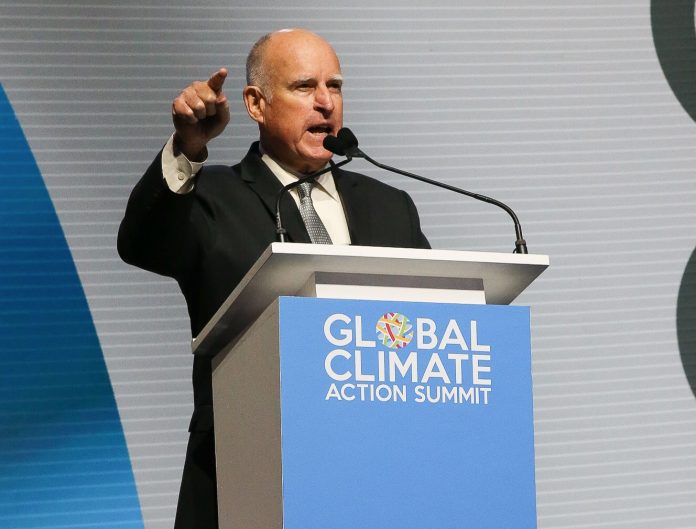 California Gov. Jerry Brown said the state will launch a satellite to monitor pollutants contributing to climate change.
"With science still under attack and the climate threat growing, we're launching our own damn satellite," Brown said. "This groundbreaking initiative will help governments, businesses and landowners pinpoint — and stop — destructive emissions with unprecedented precision, on a scale that's never been done before."
The governor made the announcement during the closing of the Global Climate Action Summit in San Francisco.
Satellite Will be Capable of Detecting "Point Source" of Pollutants
California is partnering with Planet Labs, an earth-imaging company, to build, and ultimately, launch the satellite. It will have the ability to detect the "point source" of greenhouse gases (GHG) and "super pollutants that have more potent heat-trapping effects."
The state and Planet Labs will also work with the Environmental Defense Fund and other organizations on complementary projects. They will establish a new Climate Data Partnership, which will serve as a common platform for sharing data, satellite systems studying climate variables and the earth's atmosphere.
EDF President Fred Krupp said, "This new initiative is a critical part of Gov. Brown's bold commitment to harness leading-edge technology in the fight against climate change."
In addition, Krupp explained that satellite technologies "won't cut emissions by themselves, but will make invisible pollution visible." He said the satellite technologies will generate transparent and actionable data necessary to protect people's health, the environment and economies.
Brown's new initiative is expected to help reduce 1 billion metric tons of carbon dioxide per year. That is equivalent to removing 200 million vehicles from the roads annually.
California's Other Initiatives to Combat Climate Change
Yesterday, the governor signed a number of measures to promote zero-emission vehicles and reduce carbon emissions. He also signed an agreement on Wednesday to improve the climate and clean energy cooperation with China.
Earlier this week, Brown signed a bill mandating that California obtain 100 percent of its electricity from renewable energy sources by 2045. He also issued an executive order setting a new target to achieve carbon neutrality by the same year.
Furthermore, he signed legislation last week to block new federal offshore oil drilling along the California coast.
California has the most aggressive greenhouse gas emission reduction targets in North America. The state implemented the country's toughest restrictions on destructive super pollutants under Brown's administration.